YOU DON'T KNOW ME
Try not to be surprised, but Mexico is not a culture built on tacos, tequila, barefooted men with giant sombreros, or an economic infrastructure reminiscent of your soiled underwear. Rather it's a country rich in history, an influential culture, and innovation. Don't turn a blind eye, for what country in the world doesn't have its share of slums. The fact is, Mexico stands proudly as the first country to make wine in the Americas. Today, Baja Mexico is exploding on the wine scene with over 100 plus wineries. Most people associate Ensenada with tequila drunken tourists herding off of cruise ships. I urge you to skip the trinket tour and discover the Napa Valley of Mexico, The Valle De Guadalupe.
NAPA VALLEY 2.0?
In recent years there has been a surge with California emerging wine regions, creeping south. Santa Barbara County was the stimulus, Malibu jumped on the bandwagon and then Temecula Wine Country, near San Diego ponied up. Now move over California, there's a new sheriff in Baja, The Valle De Guadalupe. Located 80 miles south of the border just above Ensenada, this is a cutting edge region with glamorous stays.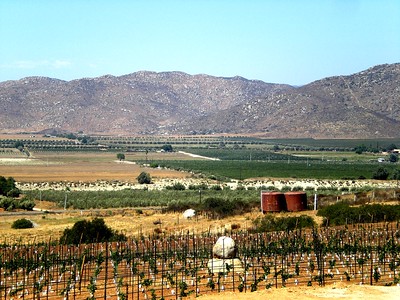 FOR SERIOUS OENOPHILES
Napa Valley with all its pretension, overcrowded, overpriced bottles, and reservation-only policy, is like the Las Vegas of wine country. The Valle de Guadalupe is more compared to Sonoma, with a relaxed rustic charm but sophisticated. The valley is garnering critical acclaim for its wines for credible reasons. Much of Mexico is too hot to grow grapes. Yet, this pocket of the country with vineyards planted on elevations and cooled by breezes from the Pacific to create ideal conditions for growing grapes. The Mediterranian microclimates and mineral soils are suited to make premium wines from red varieties, without the premium prices.
SUSPICIOUS BUSINESS?
Bodegas de Santo Tomás has an interesting back story, that's more Al Capone than spiritual. It's the oldest winery in Baja California established in 1888, and the second oldest in Mexico; that being Casa Mader in 1597. Not shocking, but Spanish Missionaries introduced wine to Mexico. A few decades later, the Mexican government granted political asylum to a group of immigrants fleeing the Russian Revolution; when they established a colony in the Valle de Guadalupe. Here is where the seeds of the wine industry sprouted.
Native business partners Italian Francisco Adonegui and Spaniard Miguel Olmart saw an opportunity to capitalize on making wine for the church for the sacrament and built Bodegas Santo Tomás. Just over thirty years later this saintly winery was purchased by briefly appointed president, Abelardo Rodriguez. Who says church and politics aren't shady? Mexico's Prohibition can even leave leaders in desperate measures. Rodriguez established a business in a former bank building on Miramar street in Ensenada and opened up a bottling plant, enabling the company to produce up to 600,000 cases per year by Bodegas de Santo Tomas. Can we all chime, "CASH MONEY"!

SANTO TOMÁS 2017 MISIÓN "BLANCA MEXICO" VALLE DE GUADALUPE
The mission grape is no stranger to the church since the Spanish missions are where they were generally grown. Originally brought to Mexico from Spain in the 16th Century. Its primary use was not to make quality wine so as not to compete with Spain's wine industry. But, today this wine competes on every level. Almost forgotten, this wine is made with 100% mission grapes, the oldest planted in North America.
APPEARANCE
Medium gold with a brilliant core.
NOSE
It's Intensely fragrant, driven by floral aromas of honeysuckle, peach flower, followed by zesty citrus orange, white peach and apricot, maple spice and beeswax,
PALATE
Dry, medium acid, body, and alcohol, oily texture, medium+ intensity with fragrant field flowers, angelica, supported by stone fruit of succulent peaches and ripe nectarines, lanoline, and long lemon cream finish.
CONCLUDING NOTE
Once a table grape the mission grape was known for sweet lackluster fruit is now having a transformation. Bodegas Santo Tomas is crafting wines of delicate flavors, with intense aromas, preserving acid, and a broad mouthfeel. It's beautifully balanced, playfully coating the palate. It appears off-dry but evens out with zesty acid. This still not an ageable wine but best savored in its youth for all its lovely qualities.
THE CHALLENGES
Without manufacturing corks, capsules, or labels, they have to be imported from the United States or Europe. Warehousing and transportation companies need to call on those missionaries to export outside Baja. Call it extortion, but winemakers sign grape contracts in U.S. dollars, creating a considerable premium against the Mexican peso.
ON A MISSION IN THE NEW OF FACE OF THE WILD WEST OF WINE
Established wineries in Baja of centuries-old like Bodegas Santos Tomas are continuing to reinvent themselves to face the global wine market. They are investing in new equipment, employing exciting winemakers, applying environmental thought to winemaking, and securing trust in their consumers. Explore Baja Wines United Group, who are ambitiously raising funds to support and promote the export of Baja wines. Mission, an ancient grape, who is the true revolutionary soldier for modern Mexico.
Ciao! Hope you enjoyed my review please comment below Love your feedback.
Thank you and remember Taste Small Live Big!
Follow me on Instagram @epicurean.angel