ITALIAN CALIFORNIAN AMERICANS…LOL
Italians have been influential in California and no it wasn't Domino's Pizza but in the wine industry. In addition, It wasn't in New York that the Italian vines saw their beginnings but on the West Coast just shy after the Gold Rush in the mid-1800s. It was their viticultural knowledge, as well as their native grapes, that made a strong impact on the American wine industry as a whole. Red grapes such as the most notable Sangiovese,  Primitivo (AKA Zinfandel) Barbera,  and to a lesser extent Nebbiolo have been planted as well as white grapes such as Garganega and Verdicchio, including Fiano. So impressionable are these Italian varieties that famous Californian/Italian (is that really a term), producers such as Mondavi, Gallo, Rochioli, Martinelli, Sebastiani, Foppiano, Seghesio, the list goes on, were influential in what is known today,  the Cal-Ital Movement.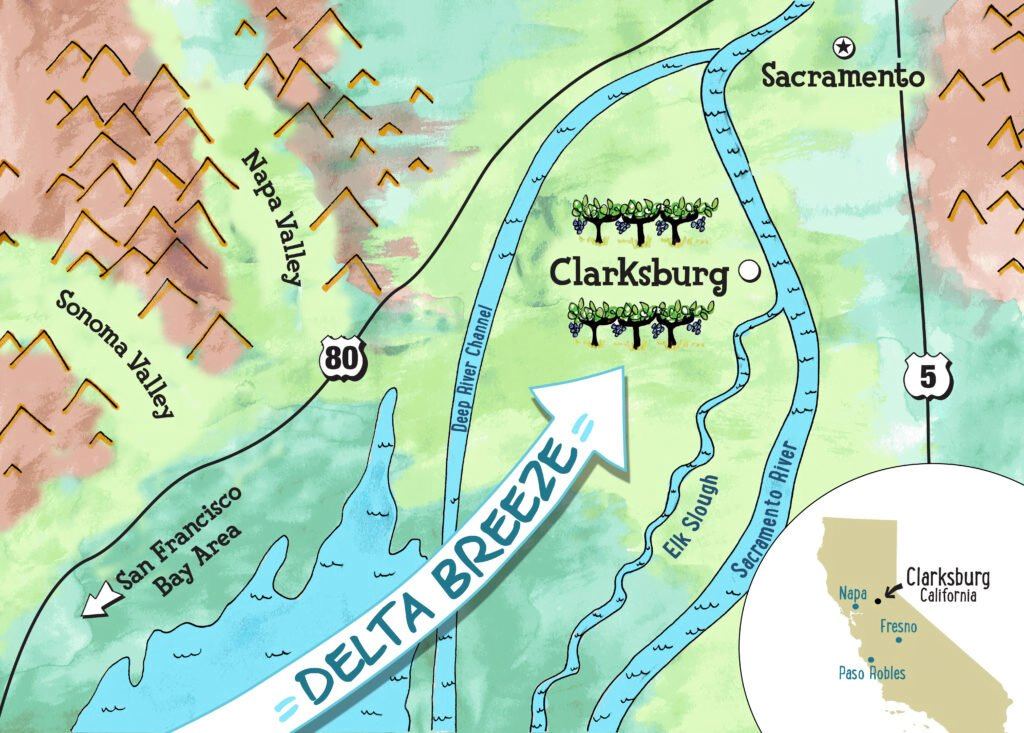 CAL-ITAL "SIDEWAYS" EFFECT
The Cal-Ital movement, as it is sometimes called, took "root" so to speak, in the 1980s. The California wine industry went looking for another successful side-effect like the French grapes imports that put  Napa Valley on the world map; Cabernet Sauvignon and Chardonnay. California vintners wanted another famed red, and given the state's Mediterranean climate, Italy showed promise.
These historic producers obviously had a vision and hustled planting the grapes Sangiovese, Nebbiolo, Barbera, and Dolcetto and the king of Cal-Ital, Zinfandel. Despite the initial attempt of its players, the Cal-Ital movement failed to boost their enthusiasm during those years. I think it was because nothing could overturn the already overpowering Cabernet Sauvignon dictator and it's queen Chardonnay. By the early 2000s, the Italian wines were chronically painful to sell. The  French varieties continued to sore including Rhone GCM blends. I have always said familiarity comforts have their advantages. Who comes riding into the sunset with another French movement, the Rhône Rangers. Not even an Italian Grandmother could help surpass their popularity. Many of the Italian vines were whacked and have since been uprooted. Others survived their fate and persevered by those who continue in their Cal-Ital mission. 
THE RENAISSANCE OF FALANGHINA (Fah-Lahn-Geeh-Nah)
Falanghina is a native white grape of Italy, sometimes with its other name Falanghina Greco. The origin of this grape is in the Campania state region of Italy in the area of Naples. Avellino and Benevento are its spiritual microscopic regions. It is an ancient grape variety which may have provided a basis for the classical Falernian Wine. Falernian Wine is a famous wine from the ancient Roman civilization. It was a symbol of royalty, drunk by rulers just before ship voyages in search of conquering other regions. The name"Falanghina" is born out of the Latin noun "Falangae" which refers to the stakes used to support grape vines because the vines just grew wild. I'd like to pay homage to the man that not only revived native Italian grapes in their own country but in California as well, Senior Angelo Mastroberadino. He is the true inspiration for every producer growing popular Italian grapes and reviving ancient ones in America such as Falanghina. I'd liked to have appropriately and respectfully titled it, "The Mastro Movement". 

(IMAGE FROM HERINGER ESTATES)
Clarksburg is not exactly a well-known wine region where this wine is from and primarily not known for Italian varietals either. This is what arouses an exciting curiosity about it for several reasons and why this producer chose to plant an ancient Italian grape to make the wine. First, is to visualize the location and the above map paints a simple picture. The Clarksburg AVA is an American Viticultural Area that transverses three counties in California's Sacramento Valley. Sacramento can get stifling, and would generally scorch grapes to the torch. Fog and cool breezes from San Francisco Bay maintain Clarksburg cooler than nearby Sacramento. 90% of the grapes are grown in loam and dense clay soils, that result in wines with perfume and robust fruit flavors. Secondly, unlike this producer, most vintners in the Clarksburg AVA  use crush winery facilities located elsewhere in California. Lastly, relatively few wines are released with the Clarksburg AVA on their labels. However, the Terraces are proud of the Clarksburg AVA and farm their land themselves.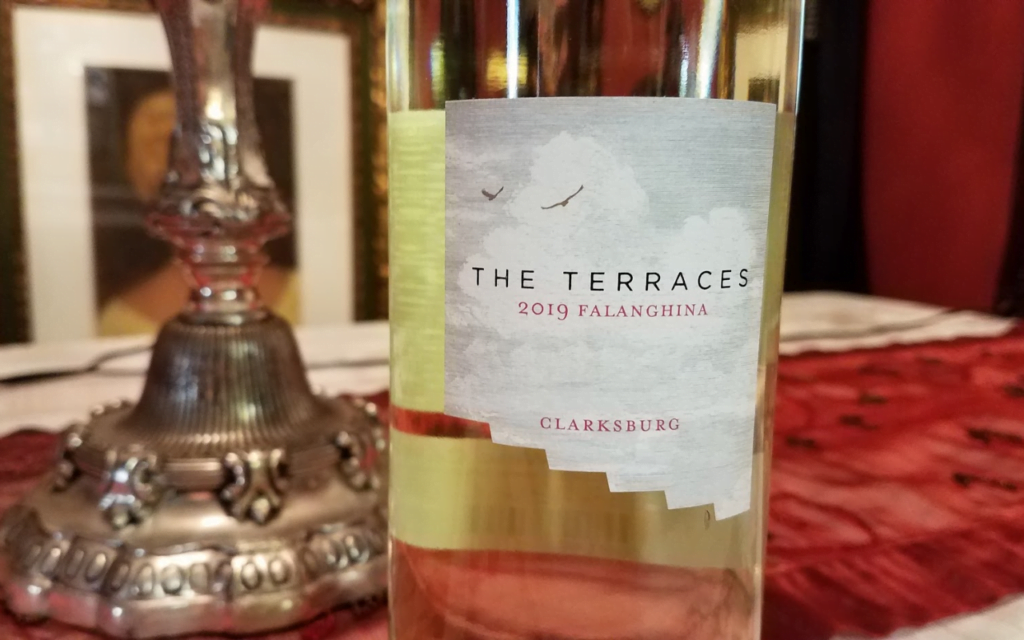 THE TERRACES FALANGHINA 2019 CLARKSBURG
The Terraces was built on 130 years of farming legacy. The land was once as Rancho Caymus in the 1800s when wine production began. It was once and still known as a premium source for one  Italian grape, Zinfandel. The family-run business means production is limited and very personal. 
APPEARANCE
Medium gold, with water rim medium viscosity
NOSE
Medium+ intensity withe notes of highly concentrated citrus orange, zesty lemon rind, candied apples, sweet basil, orange blossoms, earthy scents, of pine and wild weeds.
PALATE
Dry medium acid, medium body, medium + warming alcohol, medium + body, waxy texture, medium+ intensity, with ripe citrus of mandarin oranges, bitter pink grapefruit, honey lemon yogurt, apple pie, salted candied hazelnuts, weathered stones for a  long finish.
ASSESSMENT
This wine is outstanding. The medium acid stays linear with the body and complements a mid-palate waxy texture. It has a solid structure and a feminine backbone. The fruits are justly ripe but still dry and finish with an earthy stony lingering finish. You can still be appreciating the wine for another 3-5 years while developing orange marmalade, honey toasted nuts, and perfumed button mushrooms.

RUTHERFORD DUST
SIDE NOTE
I thought this was exciting, and I wanted to share How special this winery is. According to their website, enhance your visit to the property with a  tour of the ranch on a 4WD Kawasaki. The ancient Terraces are composed of a unique Napa Valley soil called the  "Rutherford Dust" that gives the wines an OLD WORLD characteristic to the wines. As you're driven through their vineyards they will astound you with a  stop at their historic ghost winery constructed in 1885. The time machine experience is then concluded back at the winery for wine tasting on their deck overlooking Clarksburg. SIGH! Do you like wines made from Italian grapes?
Hope you enjoyed my review, please comment below Love your feedback.
Thank you and remember Taste Small Live Big!
Follow me on Instagram @epicurean.angel