WHERE COWBOY COUNTRY MEETS DISTINGUISHED WINE REGION
El Paso de Robles, or "Pass of the Oaks," is located halfway between San Francisco and Los Angeles, in San Luis Obispo County. Surrounded by scenic rolling hills and California's premier wine regions, Paso Robles is only 27 miles from dazzling beaches. The City of Paso Robles or simply called Paso by the locals has a long history with wine and renowned for its thermal springs. Paso Robles' growth as the wine industry has a long history with the area. Wine grapes were introduced to the Paso Robles soil in 1797 by Spanish conquistadors and Franciscan missionaries. It's enveloped with over 200 wineries, and a spirited downtown with a variety of exceptional restaurants and quality retail.
To refer to all of Paso Robles is like trying to refer to all of Los Angeles. There are many small sub pockets to the region and each deserves its own merit. Therefore, the main focus here is it's beating heart, the Historic Downtown Paso Robles. Babito and I arrived hungry in town, while there are many choices to fill up, Jeffry's Wine Country BBQ will be your rite of passage. It's that good!
JEFFRY'S WINE COUNTRY BBQ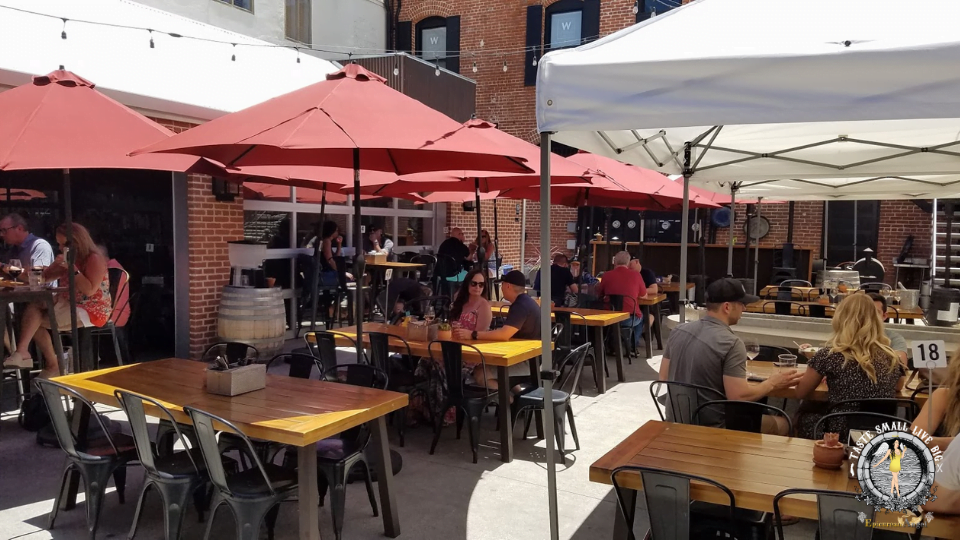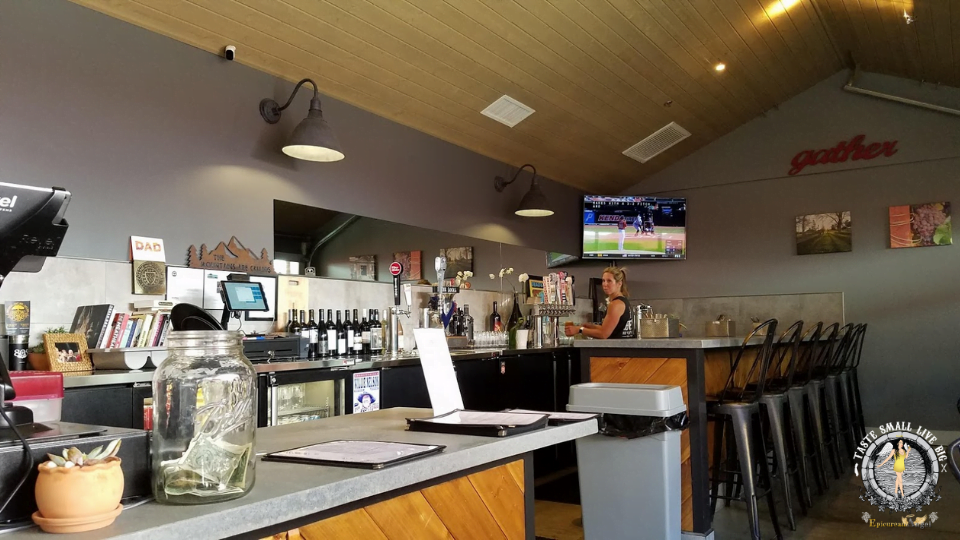 First, you have to find this secluded treasure trove, so put away your GPS.  Look for an alley, enveloped by Park, Pine, and 13th Streets. Search on for the art deco style "JEFFRY'S" sign with a flickering wine glass on top. Or follow your nose with the intoxicating scent of smoked meats blanketing the air. Step into Chef and owner Jeff Weisinger's engaging backyard, accentuated in the middle with a long oval fire pit, and serious smokers to match. The restaurant feels free as the inside spills on to the outside area openly in a casual but cozy environment. Jeffry's Wine Country BBQ  is Chef Jeff's second concept which opened last October, along with his wife Kathleen. He has also founded the original Barton's Kitchen Window, located behind the tasting room at Barton Family Wines off Highway 46 West in Paso Robles.
The concept for the southern style inspired Jeffry's Wine Country BBQ, is pairing smoked meats and wine which share some of the same flavor characteristics. He uses wood smokers, homemade dry rubs on the meats and patient cooking. Babito had the succulently tender signature tri-tip sandwich with creamy blue cheese potato salad, paired with a local craft beer.
Every item on the menu is homemade. From the sauces, dressings, potato chips, bacon and even the freshly baked bread on your sandwich. It may not be smoke but don't pass up any one of their expertly created Mac & Cheeses, they'll leave you weeping. If that isn't enough, Jeff caters too and has been for 11 years.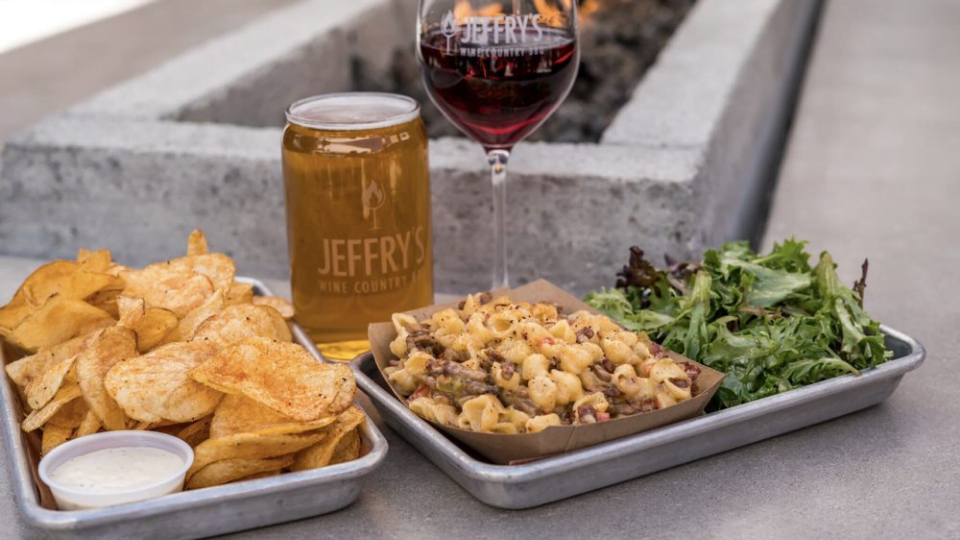 Also, join them weekly for "Paella Sunday" dinner at the restaurant, featuring Chef Jeff Weisinger's 4-time award-winning dish. Community driven and pet-friendly, it's an open invitation from the Wesingers to keep you coming back for more.
819 12th St
Ste B (in the Alley)
Paso Robles, CA 93446
(805) 369-2132
www.jeffryswinecountrybbq.com

Downtown Paso Robles is a visitors' paradise where you can just spend an entire afternoon exploring a cluster of merchants, delivering service with ease. It's pedestrian and bike trail-friendly, all free parking, public transportation options and a diversity of amusements. Another appeal is every dollar spent in the downtown supports the local community.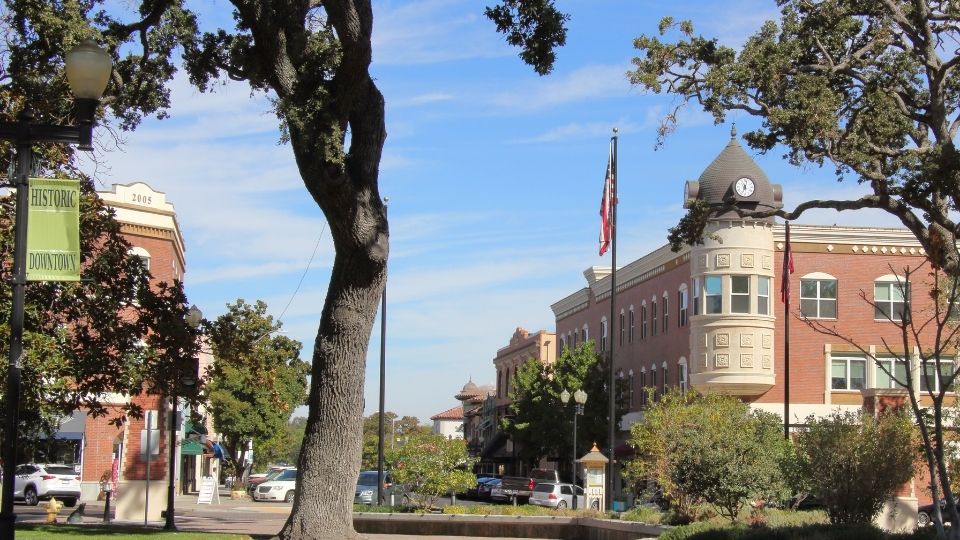 Despite the assortment, wine is the true bloodline of Downtown Paso Robles and it's teaming with tasting rooms in the immediate square. A perfect example is, have your jewelry cleaned at Seigal's Jewelry by owner winemaker and goldsmith Stu Goodman while tasting his wines "Frolicking Frog".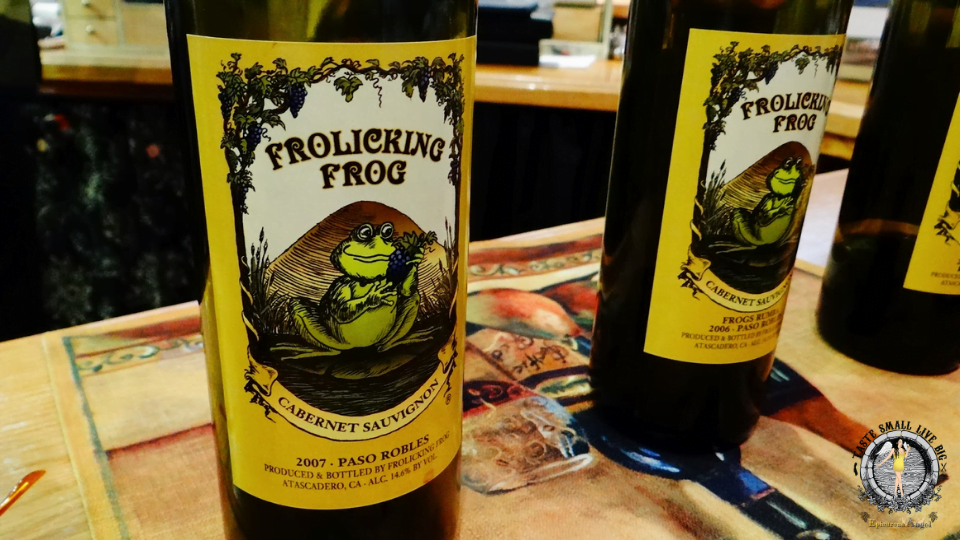 While visitors are directed to the most popular tasting rooms, we are always in search of the less obvious. There are two variants hidden in one tasting, which makes it kind of awkward when you must decide which to taste first.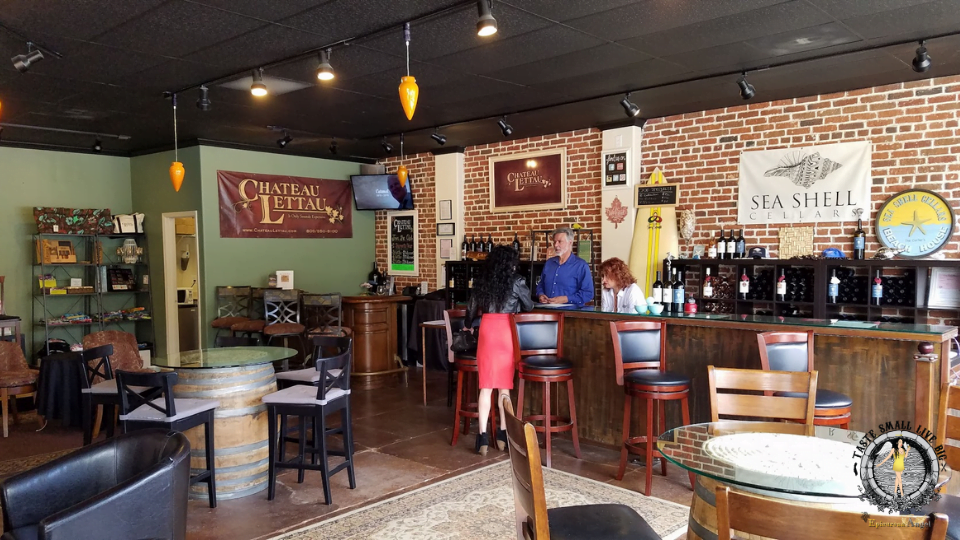 There wasn't much to decide, we tasted both at the same time, Sea Shell Cellars and Chateau Lettau Winery.
SEA SHELL CELLARS
Sea Shell Cellars is an estate-grown and family-owned winery established in 2008. Rick and Michelle Carter grow Bordeaux and Rhone varietals along with Tempranillo, on their 97 acres of vineyard property in the Estrella District of Paso Robles. 30% of their yield goes to producing just 1000 cases annually. The name reflects the impression they want you to have on their wines. Sea shells are reminiscent of people, places, and enjoying the breezy beach lifestyle.
The reserve Syrah is outstanding, think Cote Rotie! It spills with expressive dark fruit, smoke, and charcuterie. They are open 7 days a week. Let Sea Shell Cellars bring the ocean vibe to you in the heart of wine country. Pop open a bottle, relax and join them for live music on Saturdays.
840 13th St.
Paso Robles, CA 93446
(805) 591-7040
www.seashellcellars.com

CHATEAU LETTAU WINERY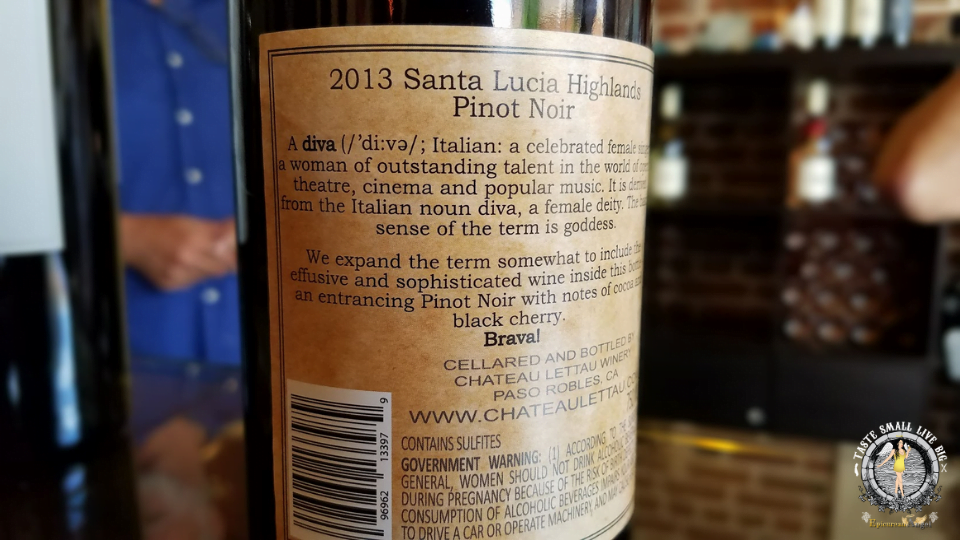 Ron and Tawnya Nodder established Chateau Lettau Winery in 2001, sourcing grapes from premium vineyards around Paso Robles. Ron made wine at Tablas Creek before realizing the ambition of producing his own brand. His wines are exemplary of a European style from Bordeaux blends, Burgundy, Rhone, and Spanish varietals. The Diva Pinot Noir is like A Film Noir movie, feminine driven with bright red fruit, backed by power with dark cherries, smooth acid, and strong finish. The Albarino is full fat with bright acid and dense minerality with grapes from a single vineyard in Monterey County.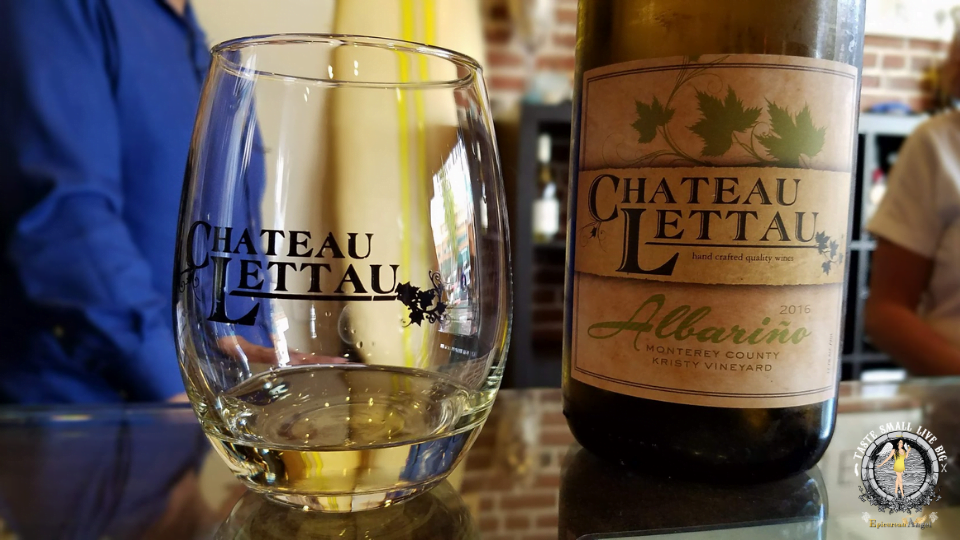 Most of the time Ron is pouring wine at the tasting room. Note: they are closed Tuesday and Wednesday. The Nodders want you to more than just sample their wines, but to stay and order up a glass or two. Unwind from trodding around town for their live music and events.
840 13th St.
Paso Robles, CA 93446
(805) 238-6800
www.chateaulettau.com

Ironically just a stone's throw from Sea Shell and Chateau Lettau is my absolute favorite. If there is one tasting room that ought to be at the cap on everyone's punch list is…
COPIA VINEYARDS AND WINERY
For more insight on this special winery, tune into my exclusive interview. You'll be in amazement on what's unfolding at Copia Vineyards and Winery.
WATCH OUR VIDEO TO MEET COPIA VINEYARDS & WINEMAKERS ANITA & VARINDER.
840 13th St.
Paso Robles, CA 93446
(805) 296-3000
www.copiavineyards.com
Its time to check into our hotel and replenish for the evening. We have stayed in many properties in the immediate area. There are super-premium options such as the Hotel Cheval to more modest appointments but still quaint such as the Adelaide Inn. Also, a special mention to one unassuming motel is the Farmhouse.
The owners are exceedingly generous and unsparing to detail. However, we chose to go back in time to the historic Paso Robles Inn.
PASO ROBLES INN
To know the establishment of a township is to know where tired travelers laid to rest. The Paso Robles Inn was established in the same year that El Paso Robles De Robles was founded as a city, 1889. It is the heritage and legacy of the town and also an official landmark. Some illuminating guests have stayed such as Theodore Roosevelt, Clark Gable, Bob Hope. It also serves as the Spring training home of Major League Baseball teams. Unfortunately, the current design isn't the original structure as it was destroyed by fire, rebought and restored. However, it does retain its antiquity by keeping as most of the original relicts inside.

Source: Paso Robles Inn
The property is expansive as they expanded it from the original property to include mini-suites and a mini house for an entire group of friends or wedding party. However, to get the feel of a bygone era, stay within the hotel that includes a fireplace and hot tub.

Source: Paso Robles Inn
It would be a loss if you don't take the time to revel in a few drinks at their Iconic Cattleman's Lounge. Order your whiskey neat, and envision John Wayne sitting next to you enjoying one too.
Source: Paso Robles Inn
The Steakhouse is frequent by regulars and of those guests who decide to not leave the hotel. They sit inside fireside or outdoors and take in the downtown scenery. On the other hand, for the price and quality, there are better choices in town that would discredit their steak, but the service is good. If you still don't want to leave, the next morning, head to their nostalgic coffee shop, for bottomless pancakes and caffeine.
Babito and I chose one of the best if not the best restaurant in town. We have been coming to Downtown for years and have always wanted to dine at BL Brasserie (formerly Bistro Laurent), but for many reasons, we couldn't. First, we were in our 20's couldn't afford to. Secondly, and most importantly, it's always booked. Thirdly, it's a tiny hamlet, hard to accommodate when you close at 9 pm. I always wanted to know the man behind a restaurant that has stood the test of time for a ¼ of a century.
BL BRASSERIE

Source: BL Brasserie
Venture out like we did, if you want a WOW factor on your taste buds!. Dining at BL Brasserie (formerly Bistro Laurent) would be a worthwhile experience for you. We not only made a reservation but had the privilege to interview this reserved chef. Read on here and view the video to meet Chef Laurent Grangien.
WATCH OUR VIDEO TO MEET CHEF LAURENT GRANGIEN!
1202 Pine St.
Paso Robles, CA 93446
(805) 226-8191
www.bistrolaurent.com
There are just as many shops as there are tasting rooms, and decisions on which ones to choose can be overwhelming. I'm an impulse shopper and prize boutiques for unique finds.
BIJOU is one of the most impressive in the square.
Ladies, you can easily be smitten to spend a couple of hours here. Bijou offers women's clothing of exceptional quality, accessories, home decor, gifts, infant, children's clothing and toys, shoes, etc…Its eccentricity meets elegance with function. Tap into your inner diva, and let owner Camila S. Burns welcome you into her wonderland.
815 12th St.
Paso Robles, CA 93446
(805) 296-3833
www.bijouonthepark.com

No visit to Downtown Paso Robles would be complete without an experience at probably the most immortal place in town The Pine Street Saloon.
THE PINE STREET SALOON

Source: Pine Street Saloon
If the Paso Robles Inn was a resting place for travelers in the 1800's, The Pine Street Saloon was the first watering hole for the same tourists who flocked in from the hot springs. It is the oldest original standing building. Pine Street was once known as "Skid Row" because like the town folk, it attracted cattleman, ranchers, railroad workers, and miners. It was also notoriously known to be Jesse James' hideout, whose uncle once owned the saloon.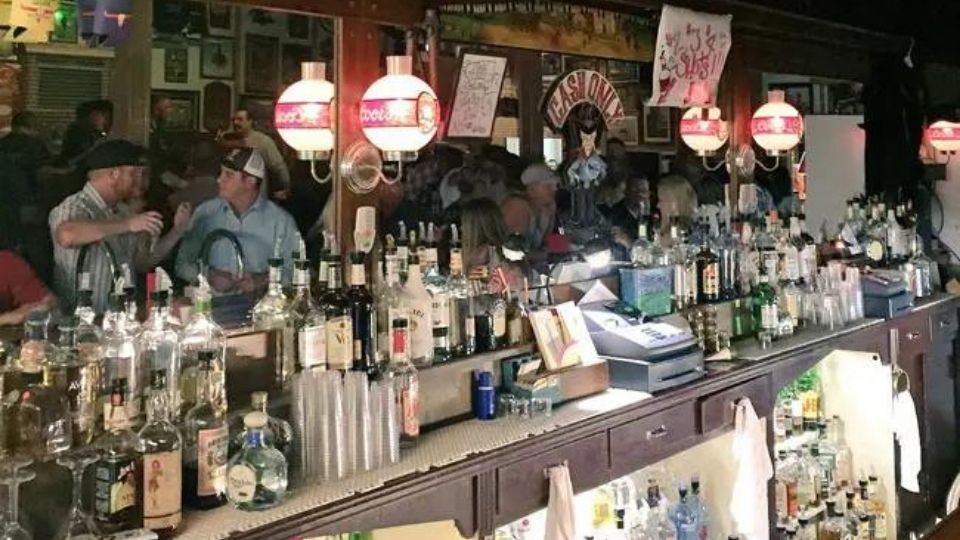 Source: Pine Street Saloon and JSFashionista
Today Pine Street Saloon is popular for its spirits, dead or alive, as it is considered one of the leaders as a live music venue in the County. Think Elton John, Eagles, Steve Miller Band, etc, check their events page. The pictures adorning the walls tell the history of every celebrity who graced this institution. The saloon offers its own wine label (as they should), a variety of local beers, and stiff drinks from their fully stocked bar. Besides listening to professional musicians, you can be entertained with karaoke, pool tables, or simply soak it in until 1:30 am! Beware, nothing has changed in 160 years, and cash is king here. Most notable about this special place is their free ride program. That speaks volumes about its earnestness for its patrons, in an area where alcohol is a serious economic engine.
1234 Pine St.
Paso Robles, CA 93446
(805) 238-1114
The vibrant Downtown Paso Robles feels it's constantly evolving and growing with changes in size. It embraces its presence in history and community loyalty that gives the visitor a sense of attachment. You don't have to be a "wino" to appreciate the town's offerings. With events happening every weekend in 365 days, coming back is like discovering its charm all over again.
WATCH THE VIDEO ABOUT DOWNTOWN PASO ROBLES:
Where to taste Wine & Eat enjoy Food!
As a Bonus Here is a List of Downtown Paso Robles Wine Tasting Rooms
Enjoy and tell them Constancia Sent You!
Ciao! Hope you enjoyed the article and video about Downtown Paso Robles
Please comment below Love your feedback. Thank you and remember Taste Small Live Big!
Follow me on Instagram @epicurean.angel