END OF THE ROAD WINERY….
But an Infinite road to the possibilities
Many bottles of wine are opened drunk and forgettable without discovering personally how and where the wine was rooted. Ojai is a small city in Ventura County northwest of Los Angeles, set in the Topatopa Mountains. This secluded treasure nuzzled on a small piece of land off Fairview Road cul de sac is a feast for all senses. All the grapes are grown and 10 barrels of wine is bottled on the premises. We were invited to this paradise by Bob Levin owner/winemaker for an extraordinary experience to taste his wines.  Unfortunately, Italian wife beauty, Lisa Solinas was busy delivering babies and will certainly want to meet her the next time around. The name of the winery is truly what the name implies, do not expect to follow your GPS or you'll end up on someone else's property, Bob's directions are on point. Turning onto the driveway, we were for a moment a little puzzled, but in following, out emerged a tall slender unassuming soul with a flannel shirt and jeans to greet us. His disposition gentle and welcoming began escorting us directly to the vineyard in dormancy with breathtaking views.
Originally from Chicago, Bob and Lisa came to California for family reasons, however always inspirited to grow grapes and make wine, Ojai furnished all the affection they were looking for and have been settled here for over two decades. He jokes, his mentor Fabian Castel of four years, left him alone with a batch of wine at some point and had to figure things out from there. He enlisted into UC Davis three year viticulture program, which gave him the edge to take on the craft personally without abandon.
As we were approaching the vineyard he dismally disclosed the summer heat of 2018 damage 90% of the crop and yield just shy of 230 cases. It took him initially four to six seasons to produce on soils of sedimentary shale, sandstone, and marls using managed drip irrigation.  Production may be low this year but sometimes scarcity is in one's favor. Passing the chicken coop we were summoned to his expertly appointed seating arrangements to soak in the landscape… tree stumps.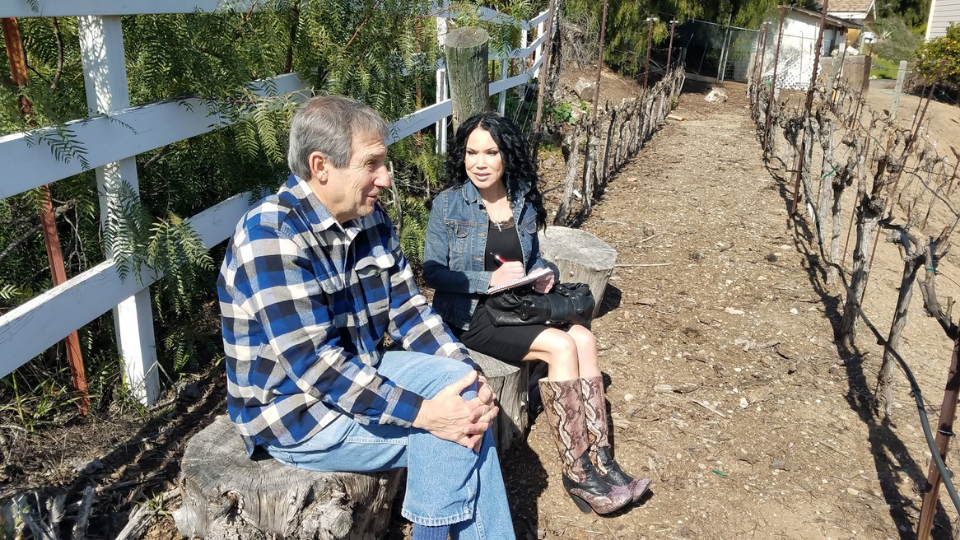 Planted to Viognier, Grenache, and Syrah,  he also plans on growing Cabernet Sauvignon, Petite Syrah, and Zinfandel. He's motivated to expand but not motivated to lose quality assurance given he is purpose-driven (we'll be waiting with anticipation). 
How would you describe your style of wines?
"I don't have a style I like to let the soil speak to the vine. I want to make Ojai wine from Ojai grapes".
What influenced you to become a winemaker?
"I grew up in a religious environment and was inspired by the Bible. Mom would take me planting with her and was fascinated by how the seeds evolved into fruits and vegetables, just how the scriptures described it. Jesus converted water to wine, so at 22 I vinified homemade wine from bread yeast out of a bathtub (chuckling).
What is your ultimate winemaker challenge?
I'm constantly asking myself, is there a flaw? I taste the wines solo, but I also taste them with a few other trusted winemakers. Of course, I decide on the final product.
What type of impression you would want the consumers to walk away with?
To be impressed with the taste because it was 100% born from this microclimate, soil, and winery.
Do you make wine YOU like to drink or what the CONSUMER likes to drink?
What I like not ready to leave the stunning vineyard and valley views and lavishly planted garden, we were anxious to taste these wines. It was then we saw where the sleeping wines were evolving and what a thrill to sample from the wine thief. The barrels are stirred every month or two, to promote extra complexity and character.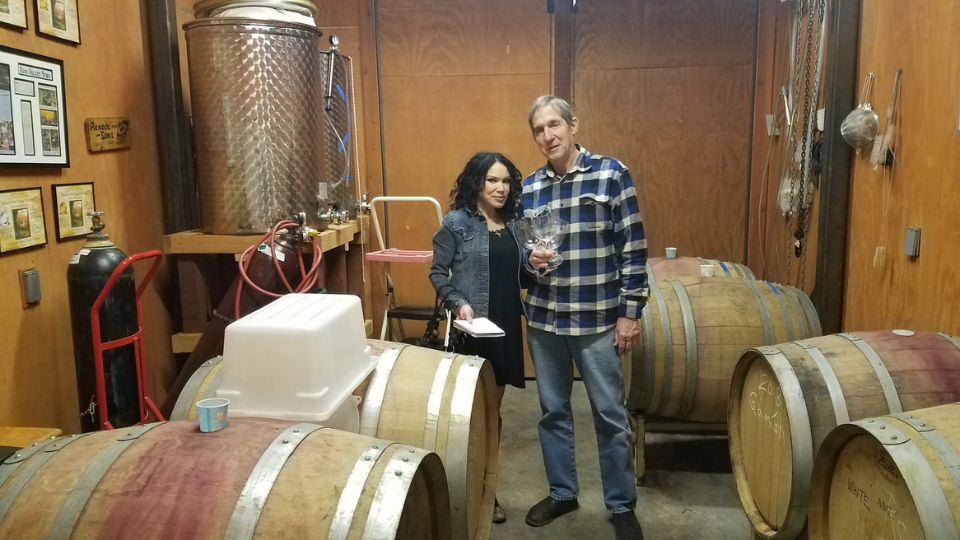 We preceded into his home which at this point I felt completely VIP, but understand here's an organic persona that is utterly transparent and generous. We sat at the kitchen counter and watching him open each bottle was like watching an artist uncover his paintings. On the label, "Slippery Slope" -"upper" -"Rock Bottom" denotes it came from the same part of the vineyard every vintage. Though clarity in wine is purely aesthetic on the part of the winemaker, Bob doesn't filter as he feels this incriminates the wine, stripping them of their natural expressions.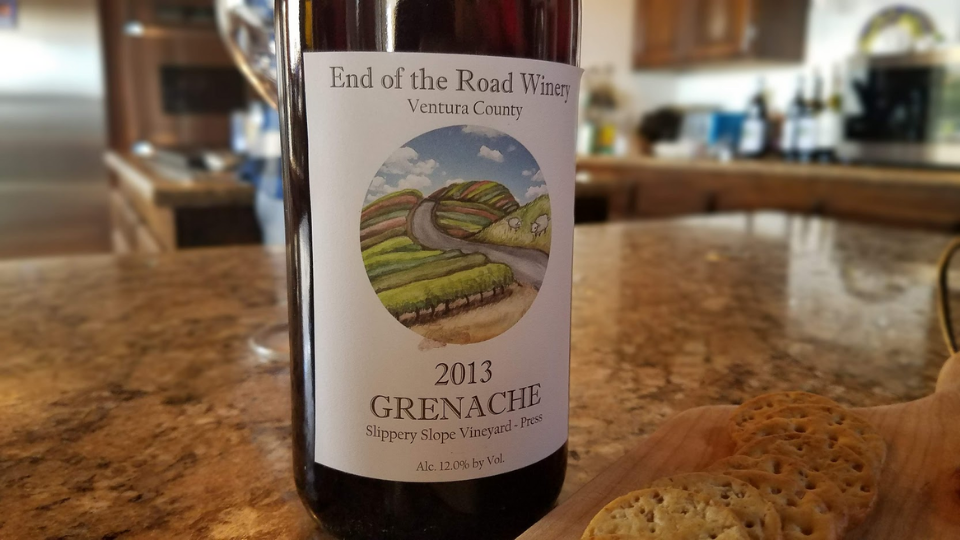 The Viognier could come close to a Condrieu, straw-colored distinctly fragrant vanilla, pear fresh citrus, white flowers. The bouquet had layers of luscious flavors, richly textured, lovely mouthfeel, tempered by minerality, and a kiss of saline. Crisp, creamy, elegant. Grenache light semi-translucent ruby, finely perfumed orange rinds, red grapefruit with smoky herbal notes of dried oregano lavender and sweet tobacco. Silky on the palate spiced to the finish.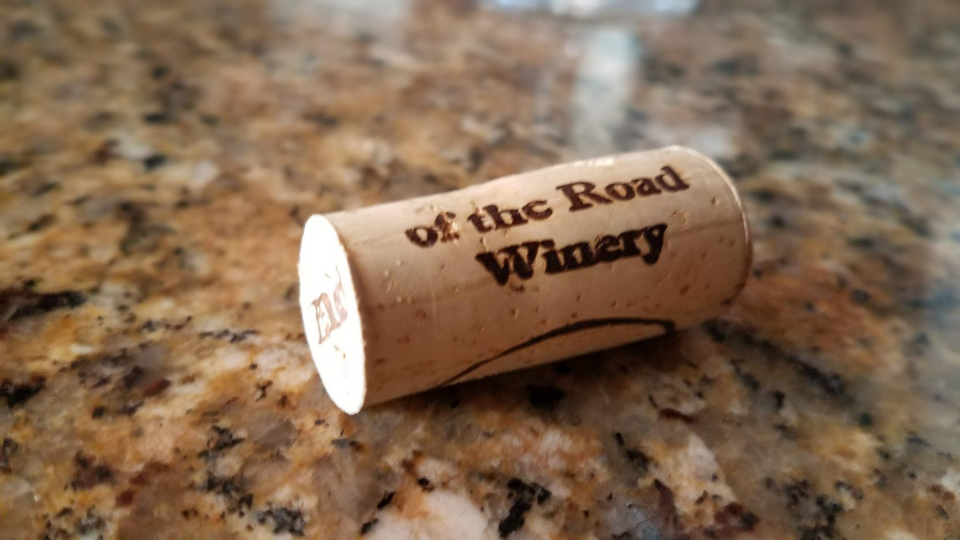 Imagine, Bob and Lisa are both practicing doctors and operate a superlative winery, while maintaining a working farm, though does admit he owes a formidable amount of credit to Edin Galindo, who lives on the property. With Ojai's favorable climate that allows so many crops to flourish the farmhouses grass-fed beef, goats, sheep, chickens, a bountiful garden of fruits, vegetables, herbs as well as cultivating honey from their bees. A tour of this special place is paramount as it's not just a winery it defines a story of Bob and Lisa. When asked what diversion he'd be projecting if he wasn't making wine… Cheese and Bourbon! (again we'll patiently await) This brings the basis of the label, he was simply inspired by old artisan cheese labels.
In his own words…."Lisa and I like to serve and be appreciated"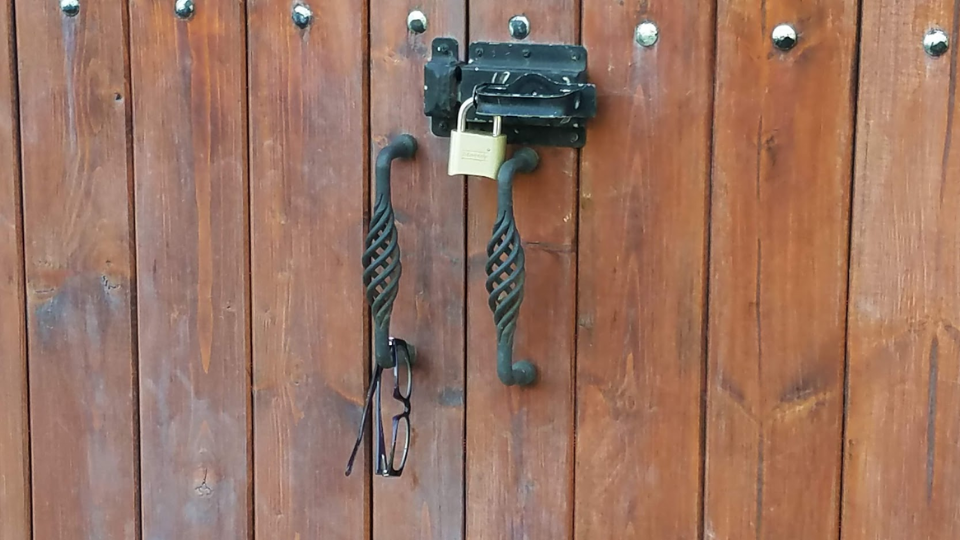 Hope you enjoyed my article please comment below Love your feedback.
Thank you and remember Taste Small Live Big!
Follow me on Instagram @epicurean.angel