GYPSY CANYON, CENTRAL COAST'S LIQUID GOLD
There are times you travel and not realize what you're experiencing until later. In conversation, the memory of it comes to mind conceiving the fact you had the fortune of stumbling onto a treasure. That is how I felt about Gypsy Canyon Winery. Two wines of note Ancient Gypsy Canyon Estate Ancient Vine Angelica non-Vintage Sta. Rita Hills and Gypsy Canyon Trois Pinot Noir 2010 Sta. Rita Hills. A hand-blown bottle, handmade paper label printed on a manual letterpress, and cork sealed with estate harvest beeswax. These wines are personally crafted from vine to bottle by the legendary somewhat seclusive Deborah Hall. We were personally greeted by the reputable Ms. Hall quet spoken and gentle with jeans and a straw wide brim hat. She gave us a short tour and looked upon the secret to the monks recipe of forgotten vines rescued by this lady with a vision. Also referred to as mission, vision, or pais grape. Also planted on the property Chardonnay and Pinot Noir. We escorted inside the holy kingdom most never get to enter into an open sitting room with a vaulted ceiling. A bar to the east corner displays the eponymous bottle and a vintage open kitchen to the west. As she motioned to sit on a plush shabby chic couch the walls seem to be rising and the walls expanding. It was there we tasted these special wines as if we were coming over for afternoon tea, chatting like old friends.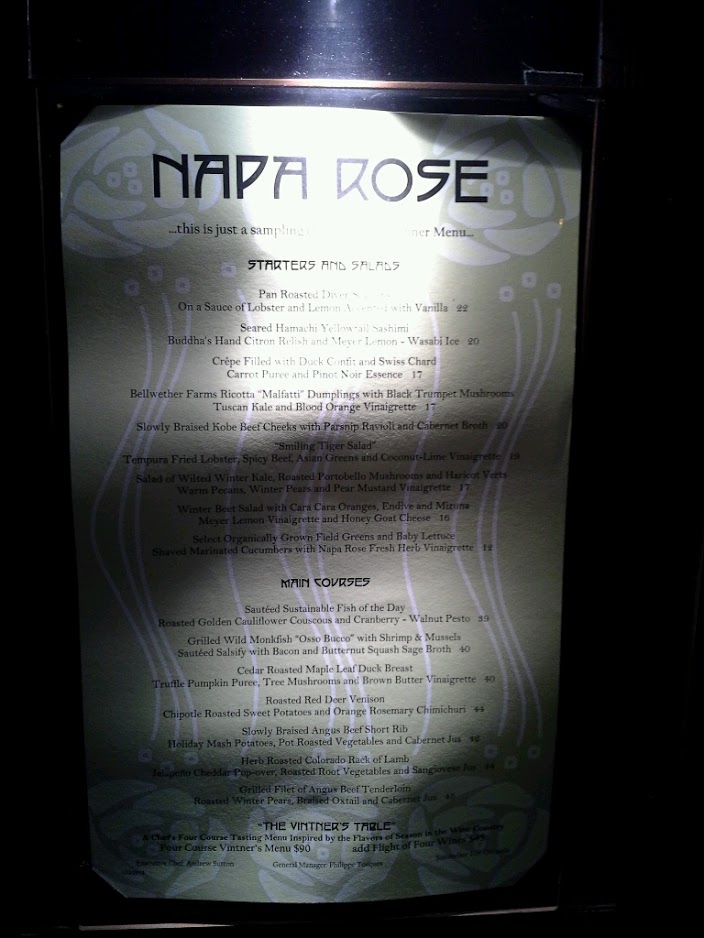 In addition to featured wines, we were privileged to savor some of her older vintages as well as news ones not yet released. The Ancient Gypsy Canyon discerned notes of honey pear, orange marmalade, roasted hazelnuts, caramelized creme brulee with brandy butter bourbon for a  long finish while still displaying a balance of acid. The Trois Pinot Noir had a striking complexity with dark cherries brooding with dried violets, layers of baking spices, smoky cinnamon sticks, fresh earth, acid on the mid-palate, silky tannins with a lustrous long finish.
I wanted to share these rare wines with a group whom I knew would appreciate these nectars and without hesitation, It would be with my friends at Napa Rose Restaurant. Located within the Grand California Adventure Hotel Downtown Disneyland, is a 5-star dining experience like none other by executive Chef Andrew Sutton and sommelier general manager extraordinaire Philippe Tosques. While tasting these wines alongside Deborah Hall did not carry the same romanticism, As I drank these wines again, I was witnessing a moment in time surreal but true reality.
Hope you enjoyed the article please comment below Love your feedback.
Thank you and remember Taste Small Live Big!
Follow me on Instagram @epicurean.angel