Jorge grew up in Málaga and managed his family's wholesale wine business before arriving in the United States. When Jorge Ordóñez arrived in the United States in 1987, the international Spanish wine market was scarce. As a result, he discerned the potential market for Spanish wine in the U.S. For his vision to prevail, significant changes had to occur both in Spain and abroad.
Jorge Ordonez Selections was the first Spanish wine broker in the United States to control every point of the shipping environment in order to protect the integrity of their wines. 100% refrigerated shipping from their wineries is compulsory to their consolidation point in Bilbao. It is required to use refrigerated reefer shipping containers to transport wine to warm-climate customers year-round. Cool climate customers are required to ship reefer between March and November. It is mandatory all of their distributors have temperature controlled warehouses.
 I recently attended a Jorge Ordonez Selections tasting at Wine Exchange in Santa Ana. The collection was generously exhibited. Here are the wine wines featured; and my impression of them.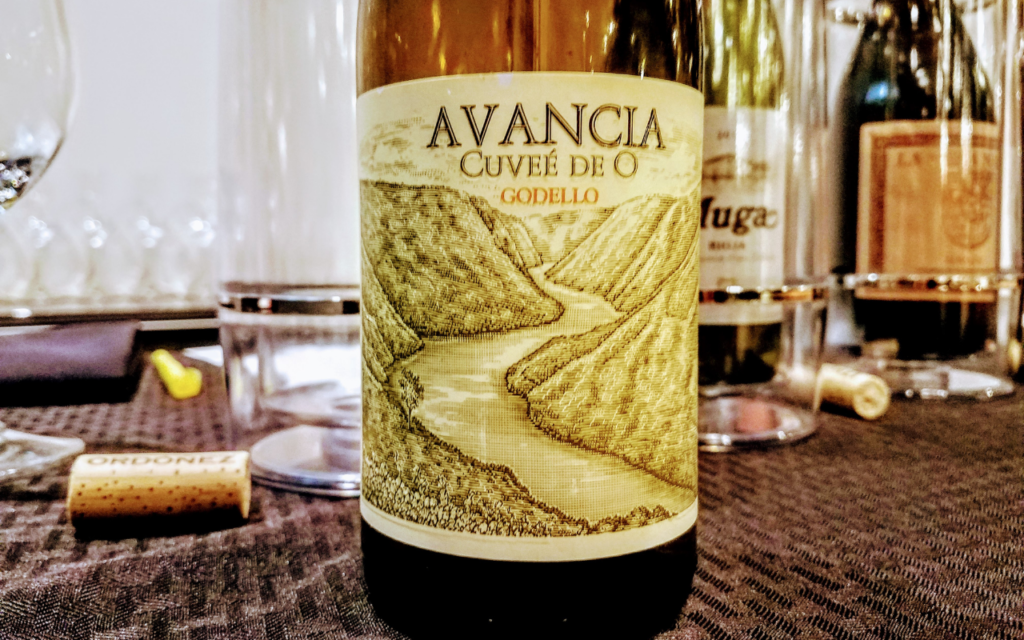 AVANCIA CUVEE de O Godello 2018
Light gold with medium intensity with tree fruit of golden apple bruised pear white peach floral with honeysuckle, citrus notes of juicy mandrine,  chamomile tea, lemon curds, vanilla bean
On the palate dry, medium acid, medium + alcohol, medium + body medium intensity with tree fruits of apples, pears and peaches, orange tang, floral with white lilies & honeysuckle, wet stone smeared with vanilla bean, Texture oily, hits of lees., medium finish. The wine is good. It has characteristics of chardonnay from the Cote  Chalonnaise. Displays Ripe fruit, round body, yet delicate but balanced by generous acid. It lacks the depth to make it outstanding. It coats the palate but falls short on the finish. Drink now as it would not develop much further. The wine is given too much press, but to be priced below $20, it's easy drinking.
MUGA RIOJA BLANC 2018
Pale yellow color with hints of green at the core. Medium + intensity, on the nose notes of citrus fruit orange, lemon. Grapefruit rind, Yellow straw, on crush rocks floral with almond blossom and earthy musk. On the palate dry, medium acid, high alcohol, medium + body medium + intensity medium + ripe citrus fruits, oranges, pink grapefruit, lemon zest, tee fruit of Bartlett pears, red apples, apricots, floral notes of white flowers toasted almonds, silky texture long finish. This is an outstanding wine. There is a focused concentration on sunkissed ripe fruit, excellent acid, and a voluptuous body. It's complex without overpowering. Its core minerality delivers structure. Aromas are generous and drawback to the palate. There are nuances that continue to jump out and draw the wine back to a polished finish. It's ageable for another 5 ten years drawing out fig plum, honeysuckle, marmalade, and buttered almonds.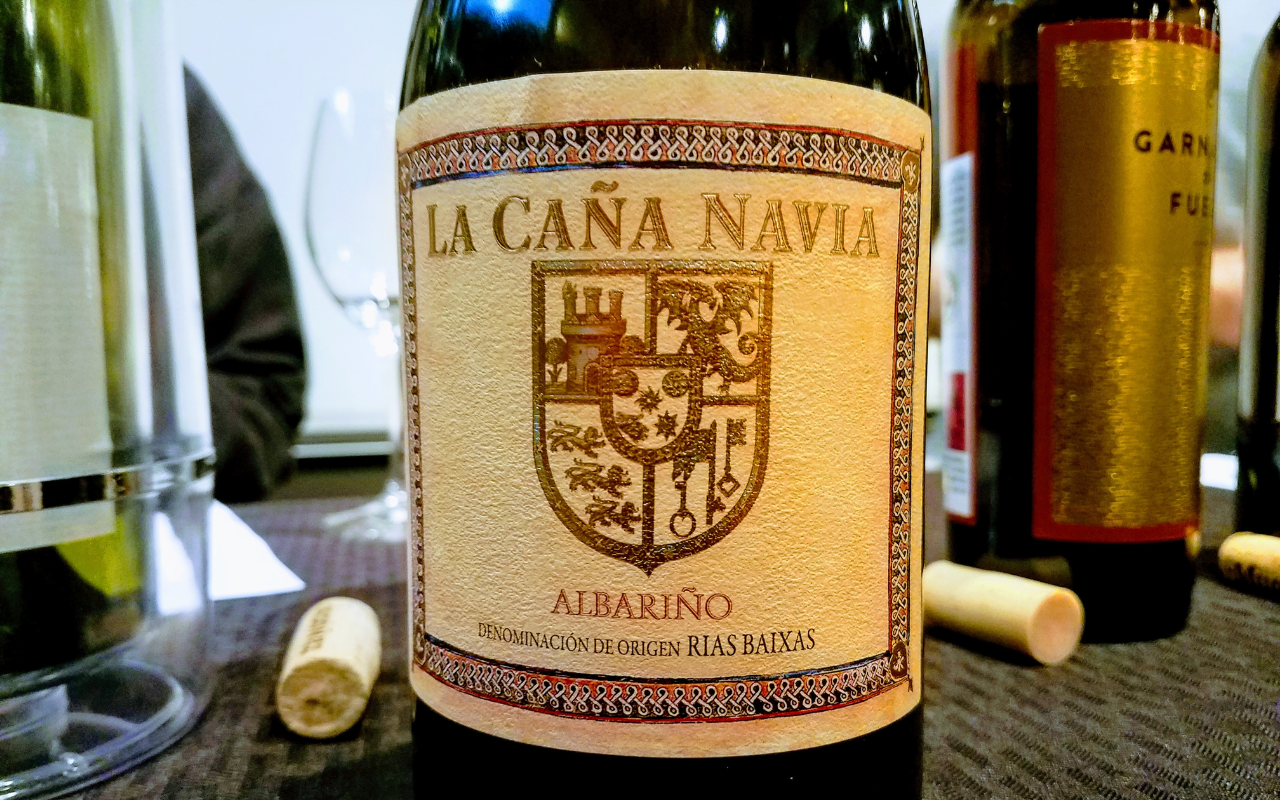 LA CANA ALBARINO LA CANA NAVIA 2016
Pale lemon on the nose medium+ intensity stone fruits of apricots, bruised pears tropical notes of honeydew melon kiwi and mango, exotic spices, cardamom,  white peppercorns and green tea leaf on the palate dry, medium+ acid, medium+ alcohol, medium+ body, medium+ intensity with flavors of peaches, yellow plum, apricots, melons, and green mango, exotic flowers, river rocks and wet earth, cream texture, medium+ finish. This a very good wine the concentration of fruit and acid is balanced with a strong grit. It's refreshing, carries weight, and hits the mid-palate,  aromas linger and tie the flavors on the finish. Drink it now, display fair characteristics, and will not deliver more. It's already ripe, yet green,  full now but will thin out in the future.
BODEGAS BRECA GARNACHA DE FUEGO 2017
Medium ruby High intensity ripe red berries of red cherries, raspberries, steamed strawberries, wet roses, crushed violets, dried brush garage, vanilla sweet spice. On the palate, dry, low acid, medium tannins, high alcohol, full-body,  velvet texture, high intensity driven by ripe red fruits, cherries, strawberries, cranberries, a potpourri of fresh and dried dark flowers, dusted brush sweet baking spices, soft texture medium minus finish. This is an acceptable simple wine. It lacks balance and complexity. It is a highly ripe fruit-driven by dull acid, green tannins. The alcohol burns on the finish. It's hollow in the mid-palate and the finish calls for acid and minerality.  Its body is more soft than strong with layers missing for a lengthy finish. Drink now, driven by ripe fruit and high alcohol would not develop. Short on acid and oak aging is a wine not to be taken seriously.
MUGA RESERVA 2015
Deep ruby, high intensity on the nose ripe red fruit red bing cherries and black cherry cordial, red and black plum, pomegranate, fresh cedar, worn leather, smoky tobacco, floral notes of dried violets and crushed roses, sweet baking spices, wild mushrooms, fresh composite On the palate dry, medium acid, medium+ fine-grained tannins, high alcohol, full-body, high intensity, with ripe red and black fruit, cherries and berries, black olives, dried fig, dried herbs and flowers, fresh tobacco, anise seeds vanilla oak, tar, fresh earth, menthol, mouth-coating texture, long finish. This is an outstanding wine. It compacted with a generous balance of bold fruit, bright acid, and sturdy ripe tannins. Its core is solid and has a big structure on the front palate with rich flavors, delivers savory textures and aromas on the mid-palate complemented with pleasant texture and seasonings for a medium+  persistent finish. Drink now but develop. It began to open more with more savory components, teriyaki, smoked meat, worn leather, dried mushroom, roasted coffee beans, and dried fruit.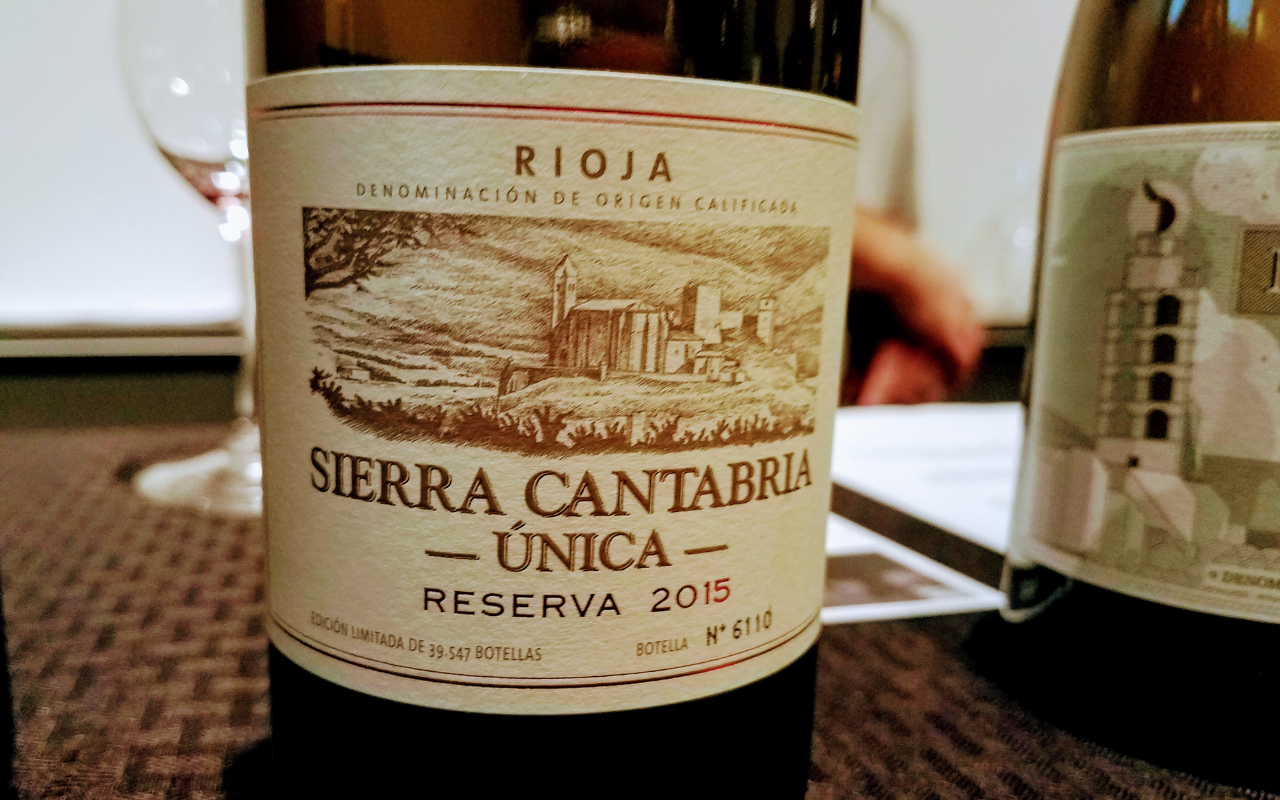 SIERRA CANTABRIA RESERVA UNICA 2015
Deep ruby, high intensity, on the nose red currant and cherries, blackberries, black cherries, cooked boysenberry, Toasted vanilla, graphite, cigar smoke, dried lavender, brown mushrooms. On the palate dry, medium acid, medium+ grippy tannins, high alcohol, full-body high intensity, with ripe red and blackberries, red currant, and blackcurrant, cassis, and kirsch. Cigar box, lead shavings, aged balsamic, soy sauce dried, flowers. This is a very good wine. It's rich and bold with a strong mineral presence. It hits with impact, but as it carries high on the finish it begins to drift. Strong flavors need to open into a bigger bouquet, to display all components evenly. It's a bit tight, can drink now, or holds for another 5 years to expose a more polished structure.
BODEGAS Y VIÑEDOS ILURCE RIOJA GRACIANO RÍO MAZOS 2016 
Deep ruby, High intensity bold ripe black fruit of blackberry, black plum, blueberry pie, fresh violets,  black licorice, fresh prunes, roasted coffee beans, chocolate-dipped vanilla beans, mocha, cedar
On the palate dry medium+ acid medium+ green tannins high alcohol, full-body, high intensity. Bold rich black fruit, blackberries, blueberries, dried fruit, plum, figs, fresh cedar, iron, mocha with vanilla cream, Fresh dark flowers chewy texture This is a good wine. Flavors and aromas are bold but miss a solid mineral core. Hollow on the mid-palate. Fruit driven but not structure driven. This wine will fall short of expectations. It packs many flavors but the backbone is removed. Not a wine for serious consumption.
SAN VICENTE RIOJA 2015
Deep ruby, medium intensity  Ripe raspberries, boysenberries, Spice cake, blooming roses, exotic incense, smoky jerky, carbon, asphalt toasted oak On the palate dry, medium acid, high alcohol, chewy tannins, full-body, medium-plus intensity, mouth-filling texture. Medium+ finish. This is a very good wine. It has a strong concentration of fruit and minerality. Developing, softer tannins, and mellow strong fruit profile. The integration of spice fruit and oak delivers a solid structure for further development. It's austere right now, put on hold for another 5-10 years, and charcuterie, truffles, chocolate-covered blueberries, enveloping into a polish bouquet of aromas & flavors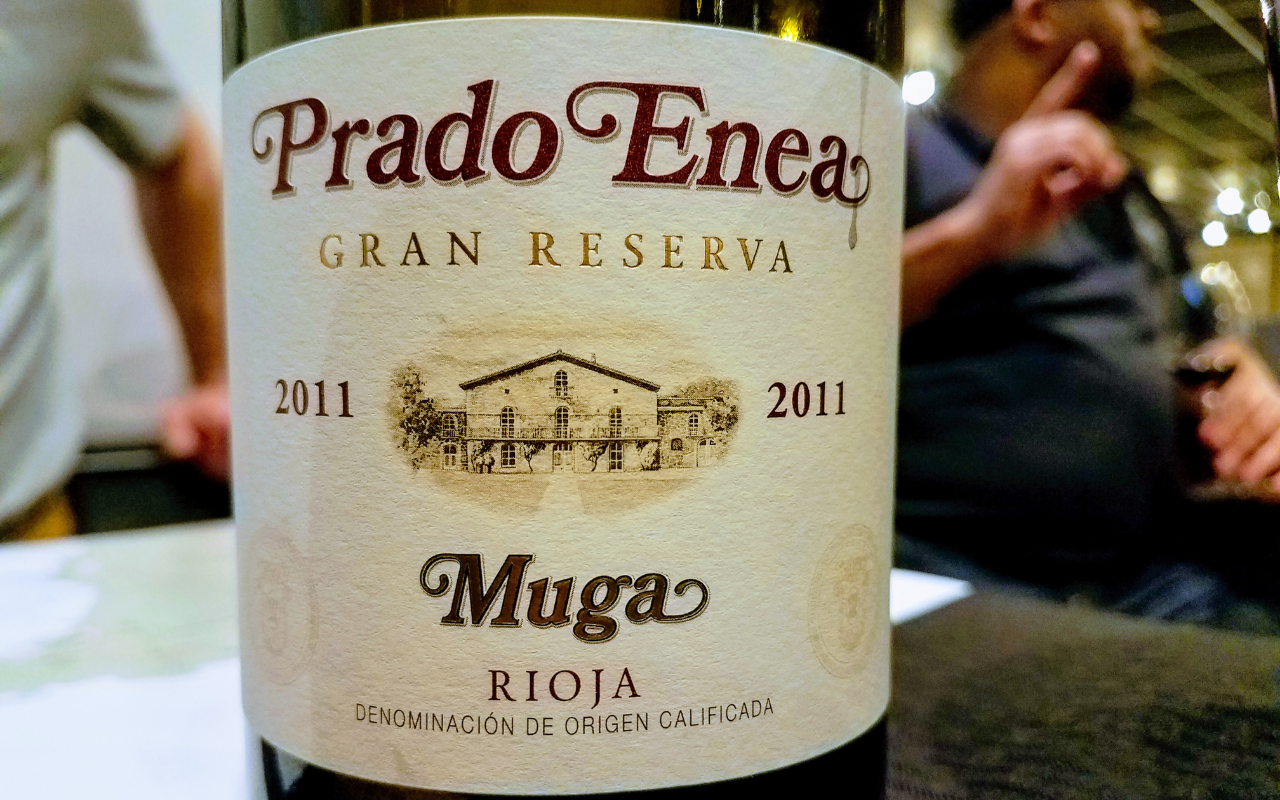 MUGA RIOJA PRADO ENEA GRAN RESERVA 2011
Deep ruby, medium+ intensity on the nose Blackberries, cherries menthol, Dried plum, wild mushrooms, smoked meats, leather, tobacco pipe. Black pepper, and dried herbs. On the palate, dry medium acid, stiff high tannins, high alcohol, full-body, high intensity with rich flavors of blackberries, dried prunes, figs, flora hits of hibiscus, lilac acacia, smoked black cardamom, teriyaki sweaty saddle, toasted cocoa nibs. Dried herbs, and asphalt. This is an outstanding wine. It has a generous balance of fruit acid and tannin. Strong structure from the three, and a deep mineral core. The finish is long and exotic. Drink now, but is slowly showing development. Its powerful fruit presence, sturdy tannins will only improve.
Ciao! Hope you enjoyed my review, please comment below Love your feedback.
Thank you and remember Taste Small Live Big!
Follow me on Instagram @epicurean.angel