Corsica, referred to by the French as the "Ile de Beaute" (Isle of Beauty). Like many islands over centuries have been tossed around like plates at a Greek wedding. Originally discovered by Italians in the 13th century. They developed a thriving culture that is, thankfully, still firmly present today. Then the French bullied their way in, followed by the English and even the Germans wanted a piece of the pie. Unfortunately, the French proved Victorians and it is currently French-owned. Yet no matter who owns it, let's be clear, Corsica is ALL Italian! 
Corsica is the most mountainous island off the Mediterranean, the 4th largest, and absolutely the most alluring! The main grapes used for quality wine, the food, and even the language taught in schools is essentially Italian. In fact, it's closer to Italia's coast than Francia. Corsicans are unarguably prideful of their identity, despite not having independence. Even though they have their own definitive wine laws, they are based on the French system. However, most importantly is what's in the wine bottles and that is Italian based wines.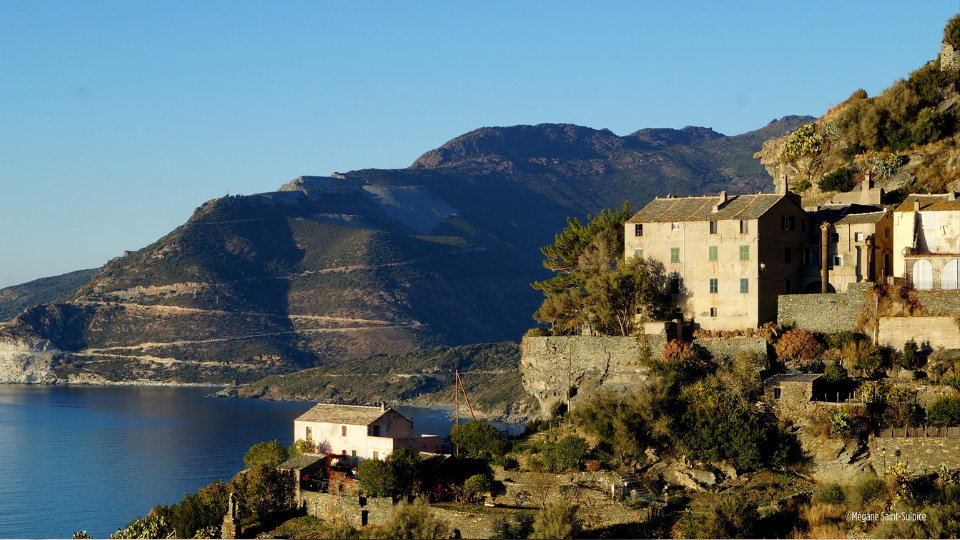 There are over thirty varieties authorized to make wine. It's not shocking they are grape types coming from the three corporate European countries: France, Italy, Spain. Still, most important here is what this wine is made from and what most wines of any merit made in Corsica are made from. Gratefully, there are only three that should definitely be on your radar: classic Italian grapes  White Vermentino (aka Rolle), Red  Nielluccio (aka Sangiovese),  Red Sciacarello (aka Mammalo meaning violets). In general complex wines are made from Italian grapes, and table wines from the other two giants, France and Spain. The table wines are sourced all over the generic island's Vin de Corse AOC. In addition to the three grapes, the apple doesn't fall very far from the tree, you only need to only remember three regions worth visiting for wine: Ajaccio, Vin de Corse, and our wine here; Patrimonio.
Patrimonio located on the north coast is where the majority of worthy vineyards are found and where this wine is not too far from. The name means "heritage" in Italian and is the most esteemed wine region in Corsica. The other two are like stepchildren:  Ajaccio, is southwest and is the birthplace of the royal pimp of all France, Napoleon Bonapart. While Vin de Corse is the "Kroger" brand appellation of the island.
Many wine regions around the world that aren't familiar to the average wine drinker will attach a name to the bottle that most consumers can identify with. Corsica, mostly known for scantily clad beachgoers than wine drinkers, is no exception. Patrimonio is what is clearly labeled in decibels on the front of the bottle, but Christian Giacometti, wine radical, believed in his wine and family. Can anyone tell me who moves their family to a desert on an island, and envisions making great wine? That would be Christian Giacometti.
Among Corsicans, it's affectionately known as Agriates Desert. If you can imagine, there is NOTHING existing here except a few libertarian inhabitants, native critters with angry eyes, and Giacometti vineyards. Patrimonio is roughly 10 miles from the mysterious desert for happy bohemian hikers from all over the world. 
Source: Flickr.com
In 1987 the Giacometti family relocated from Italy and took over an abandoned vineyard. Perhaps their beloved president Sandro Pertini at the time, couldn't persuade them to stay after years of Italy's political strife. Like most presidents influenced by the Mafia, they were the official royal court at the time. But US wine drinkers can appreciate the Giacometti family taking a chance on authenticity. Their wines are like a crime drama looking for rectitude! 
THE MOVIE: Domaine Giacometti Cru des Agriate" Patrimonio  Blanc
Get a real whiff of Red delicious apples, bruised pear, watermelon, tart yellow cherries, and perfumed with honeysuckle, along with saffron and mint. On the palate, it's sending fireworks on the palate. It's like the opening credits to a movie, with a prickly spritz on the front, leading you into the exciting credits like the main actors, and then into existing supporters that add a mouth-coating juice to the core and have a long bold surprise kick on the end. This is a wine like violent movie. It carries strong acid, aromas, powerful minerality, and ultimately an animalistic backbone. It is a wine like a movie that needs to be enjoyed now! The only sad part about the producer, we can only hope the sequel will be just as exceptional as the first.
I'm going to reach far beyond what your critics will say. The wine is made from 100%  gorgeous Vermentino, and maybe a 1% of Malvasia to goose things up. This wine is my Goodfellas movie. This  is the premise of the movie that conclusively describes this wine and Christian Giacometti
"A young man grows up may be influenced by the mob and works very hard to advance himself through the ranks. He enjoys his life of money and a little luxury. He realized he made a few mistakes and ultimately  he saw his climb to the top".  GOODFELLAS 1990 film
Corsica is an island saturated independently with class, culture,  romantic wines, and regions from a DESERT!…. Explore the wines of Christian Giacometti, and be a loyal disciple to wines that are worth their money and exploration.
Hope you enjoyed my reviews, please comment below Love your feedback.
Thank you and remember Taste Small Live Big!
Follow me on Instagram @epicurean.angel