IN SEARCH OF A NEW BORDEAUX
Amidst the majestic Wilyabrup Cliffs, this wine district as of 2020 has been FINALLY recognized as Margaret River's first official GI (Geographical Indication) wine SUB-region! This has been long overdue and well deserved. The name Wilyabrup meaning "Northern Sky" is what settlers saw in search of rewriting their history. Despite being one of the smallest of the six subregions of the larger recognized Margaret River wine region, 1 of 5 premium wines originate from here! In fact, it wasn't until the 1960s that luminaries such as Vasse Felix and Cullen Wines became the cult wines they are today. They may be the first vineyards established in the Wilyabrup, but the Woodlands Vineyards, established in 1973,  is as prime as it gets!
Perth, the capital of the superzone Western Australia, is only 3 hours from this unadulterated part of the world. Wilyabrup is surrounded by ocean on three sides and has often been compared to the renowned region of Bordeaux in France. This list is a mere reflection of the scary similarities this subregion has to Bordeaux as if you were staring into the glass yourself.   There are the grape types, ancient gravel soils, and maritime climate. The most uncanny geographical feature is what the karri trees do; they dominate the landscape and provide shelter from the westerly and south-westerly winds that blow in from the menacing Indian Ocean.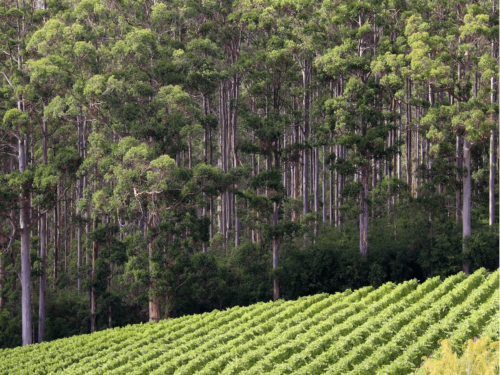 (IMAGE SCOOP OF KARRIE TREES IN MARGARET RIVER)
Coincidentally, Bordeaux is also sheltered by their Lalande Forest, protecting its prized vineyards from the brooding Atlantic Ocean winds. Interestingly, Aussie wines have been known to impart a unique eucalyptus scent to their wines and the native Karrie trees in full bloom on gravel soils are the culprit in these parts. During the growing seasons, the gentle winds whisper the essential oils from the karri trees onto the grapes. It's the key difference between smelling a Wilyabrup Cabernet Sauvignon or a Bordeaux Cabernet Sauvignon. The sky's the limit now for the "Northern Sky" subregion, as it has gained respect as being one of the most illustrious wine-growing territories in the world. 
(IMAGE WOODLANDS VINEYARD OF DAVID AND HEATHER WATSON)
MESSAGE: I could not have written this article without emphasizing the influential magnitude of this endearing couple to the Margaret River region. This image ONLY exists on the winery website. I would want Stewart and Andrew to know It would not be honorable to their parents if the reader weren't given a face to the creators of this outstanding wine. 
BUILDING ON THE PEDIGREE
Woodlands vineyard founded in the '70s by the captivating couple, David & Heather Watson in Wilyabrup. Their base mission has been to structure wines to rival the celebrated vineyards of Bordeaux. However, like any respectable parents, they put their endeavor on hold for seven glorious years, to raise their two sons. I'm not sure my Babito and I would have been as respectable, social services would have to step in at some point. Their achievement on the pedigree is so astounding, they are the most sought out wines and highest-priced in Wilyabrup. Trust me, you'll be frazzled trying to allocate them even on the world wide web! I was fortunate to snag this bottle from my local wine store, The Wine Exchange. It was shining like a beacon, standing proudly alone among its other Aussie friends. It was the only one left!  These wines are a testament to Watson's character; each vintage of Cabernet Sauvignon is named after a different FAMILY member or CLOSE  friend. I guess there's no chance of getting one named after me! Today, I'm positive they would agree their most crowning achievement wasn't the success of their Bordeaux pedigree, but their two sons Andrew and Stewart Watson;  they now run the sellout show!
WOODLANDS MARGARET 2014 WILYABRUP VALLEY MARGARET RIVER
This bottle has some age on it and is proof that these wines ARE age-worthy. All the grapes are 100% organic Woodland's fruit. To maintain fruit purity, the juice settles a little over a month on their skins in stainless steel tanks before they are transferred to French oak for almost two years to age! What I got a kick out of was the fact they don't refer to their list of aging wines as "LIBRARY"  as most wineries do. Woodlands Vineyards ask that you visit their list of aging babies at their "MUSEUM". I concur! 
APPEARANCE
Deep garnet no reflections and definitely slow staining tears. 
NOSE
Pronounced ripe fruit of blackberries black currant, baked prunes, back cherry compote perfumed with a dried potpourri of violets, black currant leaf, acacia, and crushed roses along with eucalyptus. It's further accented with sweet and smoked tobacco, graphite, bitter cocoa nibs fresh cedar box scented with cloves.
PALATE
Dry, medium acid, fine tannins, medium+ warming alcohol, full-body, pronounced intensity of black brooding fruit berries, black baked plum, pencil shavings, fresh sawdust, tobacco, laced with menthol, charcoal teriyaki salami velour texture with a long finish
CONSENSUS
This a wine that you can just drop the Mic and no further said. But I have to gush about the length it has. The concentration of flavors and notes are balanced as a tight rope and pack a punch in the ring without having to box each other out. The backbone has a strong solid structure built on body, acid, and tannin. All clearly defined. The core just keeps on building and finishes with a length that would have you thinking you just started the first sip. These are the types of wines built on a legacy. You could easily cellar this baby for another decade!. Though I don't feel any one of us could wait that long. That's why I'm not a collector!
(IMAGE THE REAL REVIEW OF WOODLAND VINEYARDS)
Great winemakers are not built in a vacuum rather they build on a heritage. They are storytellers of their craft and they are all reaching for the Northern Sky. David and Heather Watson didn't just tell their story through their wines but lived their life rewriting their history through the grand chateau wines of Bordeaux.
Ciao! Hope you enjoyed my review please comment below Love your feedback.
Thank you and remember Taste Small Live Big!
Follow me on Instagram @epicurean.angel