Have you ever tasted a wine and been blown away by its unique flavor? Well, chances are that wine was made with an indigenous grape variety. Unlike well-known international grape varieties like Cabernet Sauvignon or Chardonnay, indigenous grape varieties are those that are only found in one specific region. And thanks to their limited production, they often have a more intense flavor than mass-produced wines. Are you familiar with the indigenous grape Calkarasi? Probably not, but you should be.
Turkey has a long history of winemaking that dates to classical times when Alexander the Great introduced grapevines as part of his conquering rigor. There is a plethora of native ancient grapes that you may have never heard before! As being an old-world but new-world wine-producing area, their fresh palette and innovative winemaking techniques allow them to create wines that are truly one of a kind.
This Calkarasi grape is a hidden gem that offers a unique flavor profile that is worth trying. Let's dive into this mysterious grape. 
FRUITS OF LABOR
Çal Karasi is a lightly colored red wine grape variety grown in Denizli-Çal, Turkey. One of the most interesting discoveries I've made in my wine-tasting journey is Çal Karasi, a grape variety that grows in Denizli-Çal Turkey. This lightly colored ancient and mysterious grape tastes different from any other grapes we know. First on exploring the grape is its pronunciation: CHAL-KA-RAH-SIH. It's no surprise that the grape was given this name to match its harsh labor. Aegean grape growing areas are home to 45% of all domestic production, but surprisingly it's also found around Mediterranean regions at 20%.
"THE AREA IS FAMOUS FOR A CARBONATE MINERAL"…
THE NATIVE GRAPE OF DENIZLI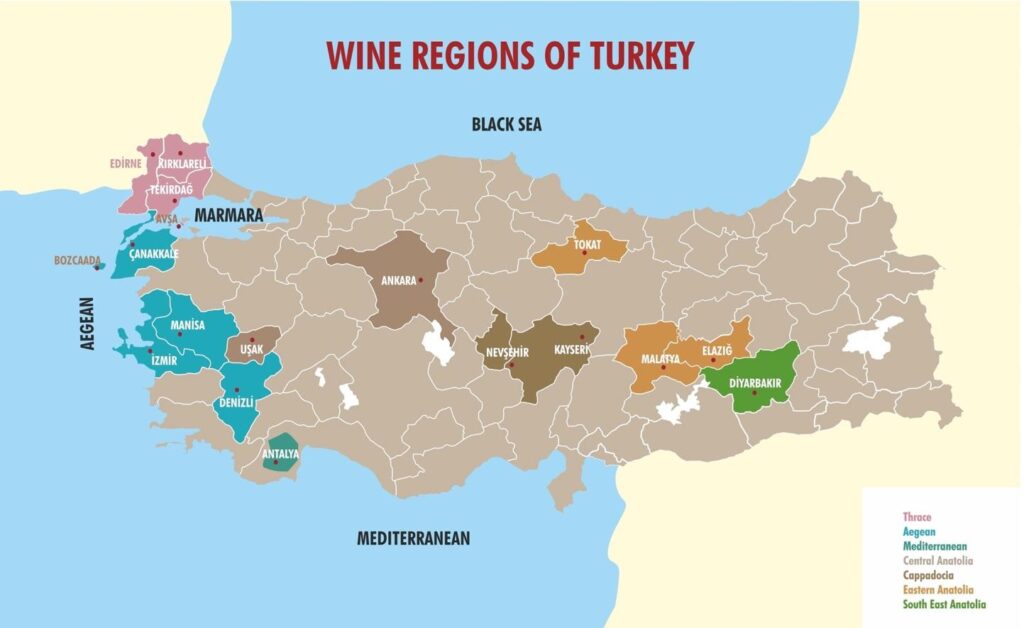 Denizli is a city in South West of Turkey that has developed into an important textile producer for exports. Beyond the yarns and threads, vineyards abound in this region growing a mix of French as well as the country's native ancient varieties. The area is famous all around the world with its cotton castle, Pamukkale, terraces of carbonate minerals. area. These minerals give the grapes their unique flavors. This explains why this grape shines only in this region of the world.
"PRIDE IN SINGLE VINEYARDS"
ABOUT PASAELI
Pasaeli boutique winery is located in the heart of Turkey, where wine reigns supreme. The city known as Smyrna was once a major port before it became better-known for its proximity to Izmir—the "Pearl". production. In 1993, Pasaeli began as a fine wine importer for Turkey. Then in 2000, the decision was made to convert from importation to producing their private wine. Even their total production is 150,000 bottles, calkarasi production is only 3000 due its hard production. Experience in the marketing world realized the demand for Mediterranean wines soon made of indigenous grapes from these countries would explode. They were right! Today, the wine is well represented by famous imports of boutique wines into the United States, Skurnik Wines. 
The Pasaeli family is proud to produce their wine from a single vineyard, which allows them greater control and ensures a solid sense of place. Not only the grape, but also 2 young women winemaker make this producers wines unique. The four sites total 37 acres in proximity with the city-of İzmir; two contain 35 -50-year-old vines which maintain CalKarasi's low vigor while still retaining complexity with every harvested grape-like in Sicily. Every harvest is handled manually by trained professionals who make sure each bottle bears traceable origin facts like lot number identifying when it was picked. 
"ITS HIGH LEMON ACID BRIGHTENS UP OTHER NATIVE GRAPES"
CAL KARASI
Calkarasi; the black of or from Cal (The town)) The grape known for its violet purple color is grown like a weed around the vineyards of Denizli where it kisses salty air. Çalkarası can be pushed into the red, rose, or blends to balance out their flavor profile and add complexity without being too powerful on its own.
Two native Turkish grape varieties for making quality red wine are Bogazkere and Okuzgozu grown in eastern and southeastern Anatolia. The two Turkish grapes are like Cabernet/ Merlot in that they are the suitable pair to make Turkey's most premium and ageable red wines. The high acidity of it not only brightens up the other native grapes that are dense with black fruit but also provides complexity to make them more charming and tasty. 
"LOOKING FOR A NORTHERN ITALIAN ALTERNATIVE?"
ZEALOUS STYLE
CalKarasi grape may not be as well-known or popularized outside of Turkey as some other international. grapes but this one has surprising elegancy against their critics who say that it can't compete with wines from more internationally recognized grapes such as cabernet sauvignon, but the wine is subject to so many different opinions and tastes. Its complex layered with juicy wild fruit and sings a sense of place that sings the birth of its earth like no other. It's mostly made into a Rose style with a brilliant warm pink color and additional shining zesty acid into sophisticated sparkling wines known as Pembe Köpük(pink bubble), by the biggest wine producer in Turkey, Kavaklidere, and doesn't have especially thin skins. Looking for a northern Italian alternative for food matching, Trebbiano may have similarities in terms of aroma profile. CalKarasi makes wines that are vinified not only rose or sparkling but also red wines too. The result? Elegant reds which retain acidity due to their velvety tannins while giving off a lovely aroma of fresh flowers or fruit on ripeness – perfect for sipping slightly chilled! Just as Italian wines dazzle on the palate with food so does CalKarasi such as Paprika fish stew, poultry stuffed with spinach and cheese, and banana cake
PASAELI CAL KARASI DRY ROSE REVIEW
It has a charming and bright medium pink color. On the nose, it has light intense notes of ripe white peaches, sun-kissed wild strawberries, and raspberries with red cherries, lemon peel, and sweet pink grapefruit, along with perfumed lavender, bay leaf, and cracked pink peppercorns.
The palate is bone dry, with medium alcohol level, light-body, a hint of skin tannin for texture, juicy acidity, flavors are subtle but crunchy ripe and fresh: fleshy stone fruit, aromas of mountain lavender, wild sweet herbs, and a kiss of smoke on the long finish. 
ÇalKarasi is a hidden gem that offers a unique flavor profile, stands alone from the crowd but it's not well-known. If you like trying out new wine varieties and want to find something different while still having the familiarity of Turkish wines, or want to surprise your friends with something different, this may be the perfect choice I recommend giving this grape variety a try! Have you tried any other authentic unique grapes? What do you think about Calkarasi? Comment below with your thoughts on what makes this wine so intriguing or if you already enjoy this blog or want to learn more about indigenous grapes, check my other blogs.