A LOUSE FOR GOOD REASON
In the 19th century, a lousy louse began infecting vines worldwide, nearly destroying the wine market as a whole. It is historically known as the "Phylloxera Epidemic" The Champagne region of France was no stranger to phylloxera and the houses were looking to other areas of the world who had yet been affected. Bairrada in the uninfluential country of Portugal fortunately was one such region. This prompted Champagne houses to send their production teams to the central region in  Bairrada, to continue making THEIR sparkling wines labels. 
Though I wonder, technically since those wines weren't produced in Champagne, were those wines still labeled Champagne? The thought that crosses my mind is…..  Champagne has  VERY strict production codes, considered a designated protected region, and highly guarded for their chalk soils that supposedly make the Champagne region unique in its own right. Did they still lay claim to these wines as Champagne? Let me know your thoughts in the comments.
By the early 20th century phylloxera was under control, how? that's for a separate article. Suffice it to say, the Champainois left Bairrada, and out of tragedy comes advantages. I'm a  strong believer in this notion. Because of the years of their presence, it should come as no surprise their knowledge and the equipment were left to make these wines. Thus, Bairrada became the original breeding ground for its own sparkling wine industry.
A REGION OF DIFFERENCE
Much of the world's recognition of Portugal is quickly linked to its long history of Port wines. In fact, any use of the word "PORT" on ANY wine label is so protected, these fortified wines can ONLY come from Portugal. However, Portugal also has a long history of making unfortified wines, from indigenous grapes not seen anywhere outside of the country.
This western part of the Beiras, between the mountainous Dão region and the surf-washed Atlantic beaches, nestles Bairrada. It has a mild, maritime climate with abundant rainfall making it an attractive region for sparkling wine production. The base wines for sparkling wines need high acidity that the chill of Bairrada climate offers. It's for good reason why the Champagnois first took advantage of the region's potential for this style. Sparkling Bairrada wines may have the fragrance of the Maria Gomes grapes (AKA Fernão Pires), or they may be sharper, based perhaps on Arinto, Bical, and Cercial, even Chardonnay for a French style. There are also 'blanc de noirs' based on the native grape Baga.  
QUICK INTRODUCTION TO THE FEATURED GRAPES IN THIS WINE
BICAL: is a white wine grape planted primarily in the Bairrada region. It can produce high acid wines and is often used in sparkling wine production. 
ARINTO:  is a white wine grape planted primarily in the Bucelas, Tejo, and Vinho Verde regions. It can produce high acid wines with lemon notes.
MARIA GOMES:  AKA Fernão Pires is a white wine grape grown throughout Portugal, especially in the Tejo and Bairrada. This variety is known to produce wines with a spicy aromatic character, though often with delicate exotic fruity notes.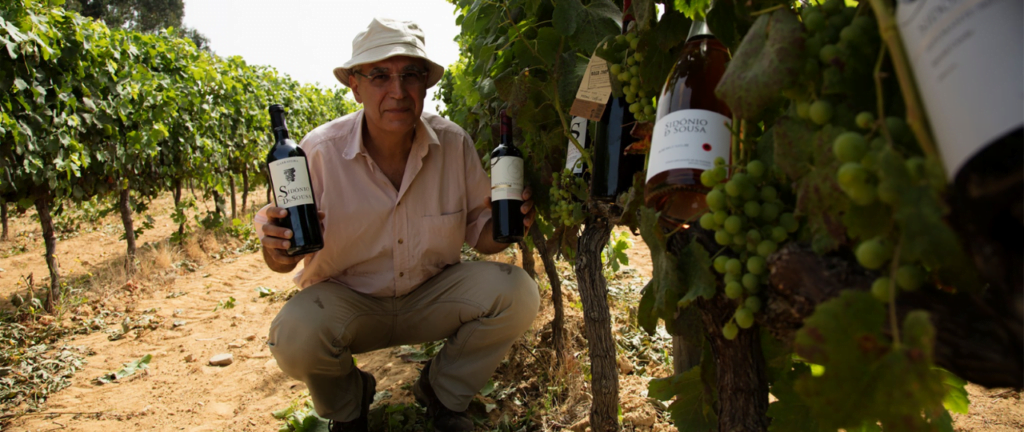 THE SPARKLE IN HIS VISION
Sidónio De Sousa  Winery is named after Paulo De Sousa's grandfather. The journey began with grandfather Sidonio who came from the United States in the 1930s to Portugal, where he acquired the first plots and started production, sold in bulk, and for co-operatives. This design continued until the 1980s when wine production paused.  After completing his studies in Chemical Engineering, Engenheiro (engineer) Paulo Sousa, became the winemaker including the company's global manager. Despite the family has grown grapes for wine, for generations, their first bottling for Sidónio de Sousa Winery didn't happen until 1990. 
 The production is planted in clay-limestone soil in Sangalhos, on their modest 30-acre estate in Ancas, Bairrada region. The planted varieties are the white Arinto, Bical, and Maria Gomes and the red grapes Baga, Merlot, and Touriga Nacional. 70,000 bottles are produced annually, between sparkling and red. These are some of the oldest vines known to Portugal.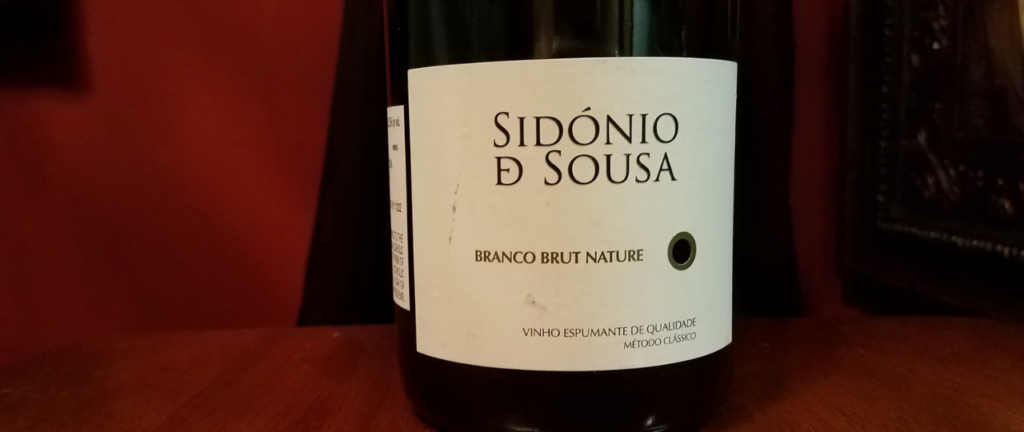 SIDÓNIO DE SOUSA BRANCO BRUT NATURE
Made from a blend of 40% Bical, 25% Arinto, and 35% Maria-Gomes, this sparkling white wine is crisp, clean, and savory. It's fresh from Bical, floral from Maria Gomes, and citrus flavor from Arinto.
APPEARANCE
Pale gold with a green fleck and aggressive beads
NOSE
Freshly picked lemons, lime zest, lemongrass,  perfumed with water lilies, seawater scented with cinnamon bark, and tart yogurt.
PALATE
Dry, high acid, medium alcohol, light-body, zesty mousse, the pronounced intensity with flavors of juicy citrus, culture lemon yogurt, salted oyster crackers, with a spicy apple sauce long finish.
CONCLUSION
Champagne no, Portuguese yes. Nothing will mirror the chalk soils of Champagne, but Bairrada makes for a strong argument for the production of quality sparkling wines. This fizz is as refreshing and bright as morning dew. It's balanced by tantalizing the taste buds with mouthwatering acid, zesty fruit, a hint of spice, and a creamy mouth coating mid-palate. The structure is solid. It is a wine that will have you stand up and take notice.
What I love about wines from Portugal is the quality, value ratios as well as buying wines using grapes you never heard of before. 9 out of 10x, you are in for a real treat. The wines of Portugal are not generally exported in high volumes. Therefore, don't expect to find a sparkling Portuguese wine easily available, even at a well-stocked wine store. But I will tell you I found mine at a local wine store I frequent, the Wine Exchange or WINEX.COM  in Santa Ana, CA. Don't fret if you don't live in southern California, these guys have been around since 1982 and have a fantastic online wine store. On the other hand, you can always book a flight to Bairrada, Portugal, and get your fix at SIDÓNIO DE SOUSA. 
What do you think, where these wines labeled Champagne in the day, or have they rightly labeled a Portuguese wine? Let me know in the comments. Ciao!
Hope you enjoyed the article please comment below Love your feedback.
Thank you and remember Taste Small Live Big!
Follow me on Instagram @epicurean.angel