THE SEDUCTION OF SAINT-PERAY
Saint-Peray is one of those wine regions in France that has you wondering why can't I have more of you. I don't want to get complicated as to how and why France's wine regions are laid out. If I did, it would be bewildering and just plain boring. However, it would be helpful to know that the Rhone Valley of France, is divided into two; the north and the south. With their 30 mile gap, they both have two separate wine cultures. Regardless of that, the Rhone Valley collectively is a RED wine country. Saint-Peray however one of only seven regions, is located at the southernmost tip of the North Valley is White, White, and White wines ONLY. I'll add to that, the mysterious fact is that it's not concerned with being as famous as it's a brotherhood of six to the  North Rhone Valley. When I saw this wine By Laurent Fayolle, I was immediately infatuated as there's only a microscopic amount of wine for the export market. I almost feel honored to be enriched with this wine in front of me.
 JUST A LITTLE RESPECT
Compared to the Southern Rhone Valley, The Northern Rhone Valley is saturated with A-listers such as Cornas and Hermitage that can command prices for their bottles more than your mortgage. Yet little Saint-Peray (I love that name, it sounds holy, but I digress) is overshadowed because the wines are white and not red. But the region despite its modesty makes some of the most extraordinary white wines in France. It enjoys a limited wine culture in terms of diversity of styles and grapes permitted. Only the white grapes Marsassan and Roussanne are used to produce still wines from bone dry to dessert and exquisite sparklers. True fact, it was just a few centuries ago, the wines of Saint-Péray decorated the fiesta receptions of Queen Victoria and the Tsars of Russia. The coolest fact is, Napoléon Bonapart even declared it was the first wine he ever savored when he was a cadet in Valence! Not a bad way to start wetting your palate.
CLASS ACT BY PROXY
The North Rhone Valley has no desire to be part of the hodgepodge to their southern cousins. There are only 5 grapes approved for the production of wine compared to the library of grapes used in the south. There the red grape is king Syrah with his white queen Viognier, but also he lives alongside his two mistresses, Marssane and Roussanne. Maybe that's why Saint-Peray is slandered. Marsanne and Roussanne grapes have taken prominent residence in this region for hundreds of years, courting nobility. Saint-Péray's still wined dwarf Viognier and rival many white Hermitage. As If The rules of production aren't already highly guarded throughout the northern region, Saint-Péray's boundaries are yet tighter and more controlled.  The two grapes may be the mistresses of Syrah but it's commendable to know they have been wearing a chastity belt on their home turf. The few wines that make it onto the export market are supple, full-bodied, and exquisitely curated.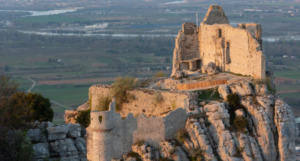 The ruins of the Crussol castle in Saint-Peray, France. Flickr
A PRODUCER WITH A FLASHLIGHT ON SAINT-PERAY
Laurent Fayolle is the 6th generation to run this small family estate in the Northern Rhône village of Gervans. In 2002, when his father and uncle split up the family domaine amongst their children, Laurent took control of 17 acres of 60-year-old vines old in the granite hills located high on a hill behind the esteemed Hermitage.  The first call to action was to convert to Organic farming practices. Fayolle uses a minimum intervention approach, preferring to express the earth rather than the winery. Grapes are gently extracted and use concrete for his fermentations as well as a hint of new wood. What results are wines of depth, body, and sheer elegance?
 LAURENT FAYOLLE  SAINT-PERAY MONTIS 2018
APPEARANCE
Medium gold with silver fleck at the rim. Viscosity is slow wit long sexy legs
NOSE
Medium+ intensity with blooming spring white and yellow flowers. It's supported with an explosion of melons, apricot compote, zesty orange kiss, wet rocks, and cracked nutshells
PALATE
Dry, medium acid, full-body, medium+ alcohol, waxy texture, medium+ flavor with ripe melons, bruised pear, and apricot preserves. Perfumed with orange blossoms, white lilies, honeysuckle, and honey beeswax. The medium+ length compliments spicy baking condiments along with a briny citrus finish.
The wine is balanced with acid, fruit, alcohol with its body. It's bold without being assertive. It's developing without the growth spurt. It's alluring on the front and spreads its wings against the cheeks and follows a satisfying finish.
PROUD TO BE DIFFERENT
I understand Saint-Peray's risk. I struggle with respect and acceptance in this industry because of how I represent myself. I'm thrilled to know the wine region of Saint-Peray has stood firmly different from others. Their white wines are spectacular like none other. Still wines, sparkling wines, oh yes and late harvest wines; sign me up for shipments! In my opinion, they never were in an abyss. Their bulb just needed to be changed to once again shine the light on them that was already there. 
BTW: I had a dickens of a time to find what is exactly MONTIS on the label, and I didn't want to leave you without all the facts. No, it's not a grape, vineyard, or the name of Laurent Fayolle's puppy. 
ACCORDING TO UNESCO:
 The Monts d'Ardèche UNESCO Global Geopark, primarily labeled as a natural park region in 2001. It is located on the south-eastern fringe of Massif central, which is a nature preserve with a visitor center, hiking trails, historic homes, museums & accommodation.
A message to Laurent Fayolle; " you already make great wine and don't need to identify or attach yourself to a nature preserve on your label. Your vineyards located within the Saint-Peray region of France, speak volumes for the wines they produce". Has anyone heard of "Cult Wines?" This wine should be one.
Ciao! Hope you enjoyed the article please comment below Love your feedback.
Thank you and remember Taste Small Live Big!
Follow me on Instagram @epicurean.angel