Dark brooding ruby color, an intoxicating nose of black wild cherries, ripe juicy raspberries, baked strawberries swooned with tobacco and savory black pepper, and spicy vanilla. On the plate Dry succulent backbone bright medium acid medium body and medium velour tannins, warming alcohol, structured, comforting seductive long finish… These are the wines of…
STORYBOOK MOUNTAIN VINEYARDS TRULY A TRUE FAIRYTALE STORY.
I never believe you find the journey, the journey finds you. On a visit to Calistoga, I wanted to explore outside the norm and made an appointment on a suggestion from a wine bar owner in town. I'm grateful he didn't mention there was a tour before the tasting, because ordinarily, any mention of a tour of any sort would send me running the other way. However, it was brief, a $25 90 minute engagement tasting included with an illuminating history well presented by personality Rick Williams. It also helped the scenery was rapturous while savoring a  glass of their estate Storybook Mountain Napa Valley Viognier 2014. Founded by a former European history professor, Dr. Jerry Seps along with wife Sigrid in 1976. The winery is situated on 90 acres of family estate-owned vineyards in the high elevation of the Mayacamas Mountains northwest Calistoga north of Napa Valley. The Seps specialize in Old vine Zinfandels and created the Zinfandel Advocate & Producers organization. 
Operating 100% sustainable, organically farmed, vinifying wines with indigenous yeasts, aging a minimum of 12 months in new French oak, Hungarian, as well as American oak.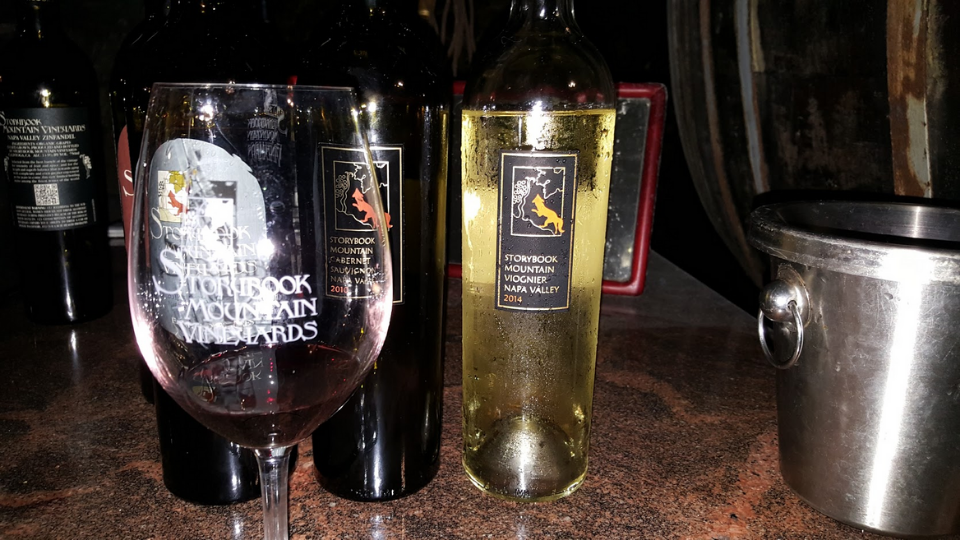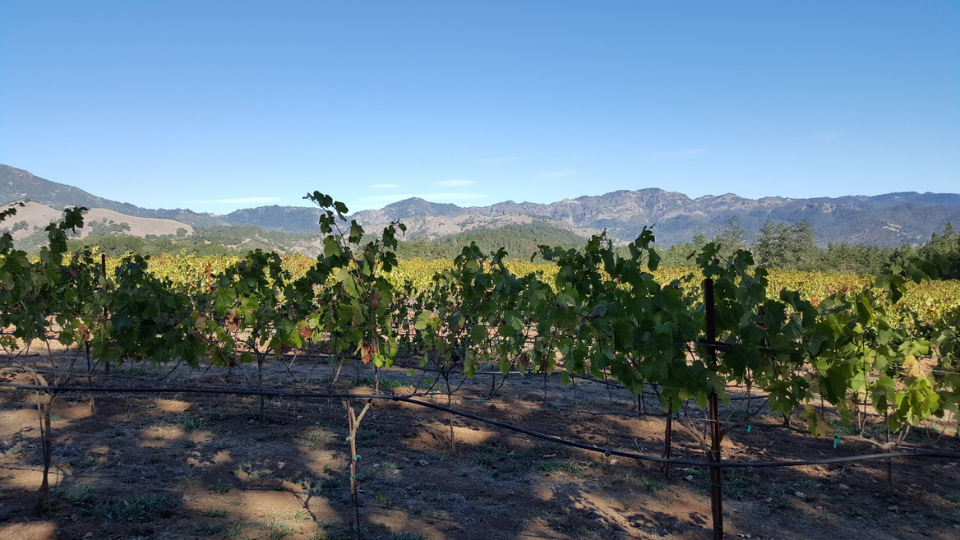 The original estate was purchased in 1883 by Adam Grimm. Mr. Grimm's family had grown wine in Germany, and he began planting Zinfandel on some of the 405 acres of land sitting just above Calistoga. His brother Jacob would later join him and assist in directing Chinese laborers to dig the three wine caves about 100 feet deep into the mountainside and establish Grimm's Vineyard and Wine Vault. The brothers decided to go in separate directions with Adam moving to San Francisco, and Jacob producing "sacramental and medicinal" wines. The 130-year-old caves are dug into rhyolite rock, volcanic in origin, which provides a consistent, year-round temperature between 55 and 60 degrees F., with high humidity. These conditions create an ideal natural environment for barrel aging Storybook Mountain wines.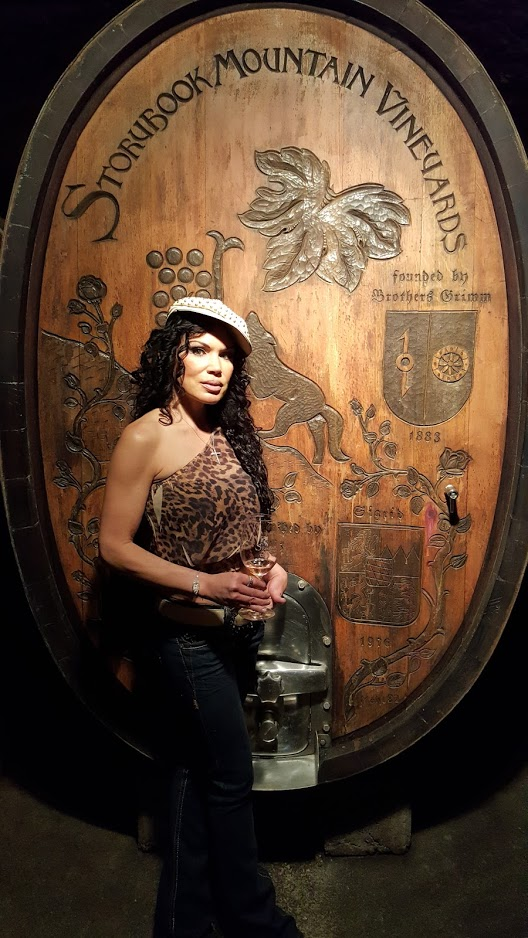 Surrounded by majestic redwoods, chard by the 1964 Hanely Ranch fire before the Seps restored the property and recovered the winery in 1976.
Many times one gives into the notion, you can only capture the beauty once. In October 2017, northern California was raged with fires including Mt. St. Helena where Storybook is located.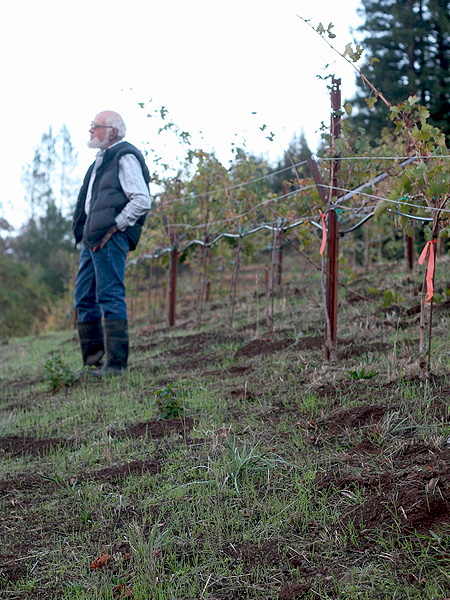 Dr. Jerry Seps an icon with a vision 43 years ago and a missionary into his 80's.
Seps lost about two acres of vines, some down by the road, some in a four-acre block of vineyards up the hill in the forest. And he lost all of his old stock, all his old vintages, about 300 cases dating back to 1980. Wines that were legend for the stamina and grace they showed with age. But with the help of the firefighters and first responders, he was able to save his house, his daughter's house, and the winery.
THE NEXT CHAPTER TO BE CONTINUED…
Meet our insightful and very genial tour guide Rick Williams, son-in-law of Jerry Seps, who is also in charge of sales and marketing
Address & Contact Information:
Address: 3835 State Highway 128 Calistoga, California 94515.
Telephone: 707-942-5310
Email: sigstory@storybookwines.com
Website: www.storybookwines.com.
Tasting Hours: By appt. Mon-Sat. 

Hope you enjoyed the article please comment below Love your feedback.
Thank you and remember Taste Small Live Big!
Follow me on Instagram @epicurean.angel