PODGORICA, MONTENEGROCAPITAL IN THE LAKE SKADAR VALLEY
A DAY AT THE RACES
Start your bets, this wine has been racing around Eastern Europe since the 2nd century BC and it shows no sign of slowing down. I have always admired the Marx Brothers for their intense comedic prowess. A DAY AT THE RACES is a genius classic movie created by the brothers.
[ The synopsis: A veterinarian posing as a doctor and a race-horse owner and his friends struggle to help keep a sanitarium open with the help of a misfit race-horse.]
I'm excited to introduce to you a wine that plays out similar to the screwball plot. The Republic Of Macedonia has continued to crown their Macedonian grape king VRANAC with great pride. With over 53 countries producing their own wines, over 35 countries are seeing wines vinified from this grape on their borders, including the US and the UK.
The way I look at the wine is not what I'm influenced with, like the posing doctor. I'm looking for a wine such as this wine's producer with a memorable impression, much like the race-horse owner. The grape's origins hail from a somewhat misfit country. However, it's a workhorse of a grape looking to take the global stage by storm on our palates. Literally translated as "Black Stallion" or "Strong Black", VRANAC, pronounced vran-ezt, is a grape that will put the pedal to the metal on your tastebuds. All its dials are set on overdrive, from vigorous vines, high alcohol, sugars, tannins, acid, and flavors. Yet since all its parts are of equal intensity, cohesively, the sum creates greater wines than its individual parts. the label had a high impact on me with VRANAC  in large letters,  which piqued my curiosity. This had me thinking that it could be aggressive marketing on the part of the country to make this massive age-worthy grape, the next Cabernet Sauvignon of international fame.
MONTENEGRO CONTINUOUS VINEYARDS
MISFIT
The most southern country of the Balkans, Montenegro, is host to Europe's largest continuous vineyards at around 5,700 acres!  Most people are familiar with Croatia, Yugoslavia, even gypsy  Albania, but not Montenegrin, what locals like to be referred to as. The origins of VRANAC claim it's home to the smallest unconventional Balkin country Montenegro. There are many fashionable grapes planted on this Garden of Eden, but rather it chooses to embrace native varietals for 70% of its wines. 
LAKE SKADAR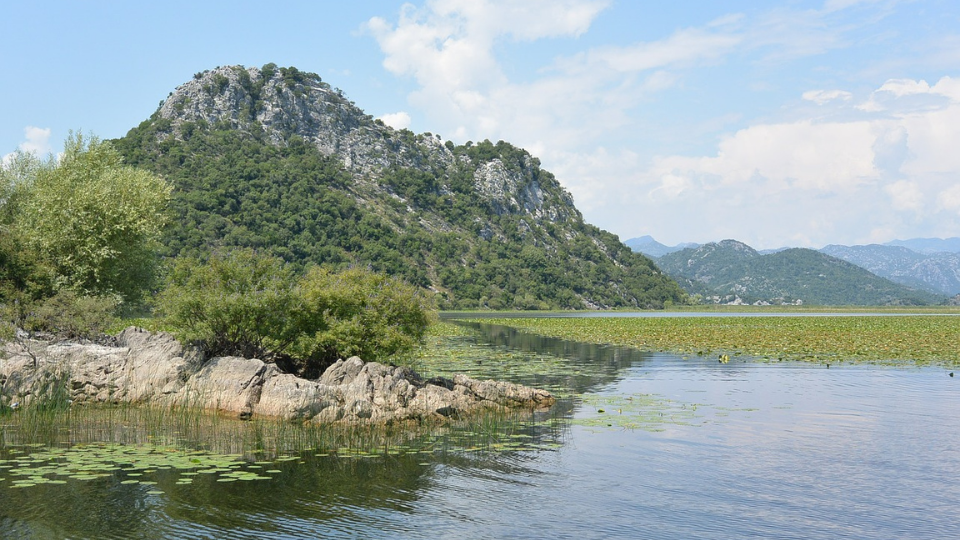 THE TRIPLE CROWN
Montenegro, translated as "Black Mountain" is befitting since the name given to VRANAC is "Strong Black". The triple crown area where the most important vineyards are located is Lake Skadar, the largest mystifying lake in Southern Europe. Plantaze, the producer of this wine owns over 50% of the vineyards in the country!  Even though the country, in general, is a fertile land, it's EXTREMELY mountainous. It's a hot dry Mediterranean climate on the tip of the Adriatic sea. Also what makes Lake Skadar Valley its prime official viticultural appellation so special is the steep terraced vineyards against a mountain. It almost looks like the Grand Cru mountain of Corton in Burgundy! The grapes enjoy hours of sunbathing while developing thick skins for protection due to growing on high elevations from radiation. Porous non-fertile volcanic soils ensure the grapes struggle for life. What results are wines of Barbaric stature like VRANAC.
HI-HAT
In the movie, you have the popular horse everyone is betting on, and then you have the misfit horse Hi-Hat. There are distinctly two styles you will encounter made from VRANAC produced in Montenegro:
Style one is popular throughout the country. It's exotic and juicy red fruit-driven. If you like Southern Italian wines, then you'll be right at home with the locals. VRANAC passed on his fruity genetics to his grandson Primitivo from Puglia.
Style two is the odds, with high extracted dark brooding fruit, ripe tannins, and vibrant acid. It's complemented with high alcohol and load with new oak. This VRANAC wine is mostly found in northern Macedonia. These are the age-worthy underdogs. If you like premium wines from California and Australia, this is your horse. For me, this wine is HI-HAT, and wines the Triple Crown.
RACEHORSE OWNER
On the label, you'll read Pro Corde and it's roughly translated as "heart". Lake Skadar Valley is located 18 miles on the southernmost point of the Adriatic sea, which locals refer to as Pro Corde. It is considered the heart of the wine-growing region of Montenegro. Producer Plantaze has made an appropriate home in Lake Skadar Valley, with the vineyards planted around the "Black Mountain" since the Illyrians established there. So exceptional are their wines that they only make wine what they deem good vintages. What's interesting is they have been an important grower of grapes destined for Brandy since 1963 when the country's commercial wine production began in the '60s. Unusually that would place you on the bottom tear of premium wine production. For any of you who are new to wine, Brandy is made from any grape that is undesirable or from harvest grape overflow. 
(FUN FACT; Plantaze is the largest producer of Brandy in Southeastern Europe).
 So who is Plantaze? Montenegro may perhaps be in anyone's mind a throwaway country by worldly standards, but Plantantaz has been behind the world of wine scene for centuries. It was the Romans who gave Montenegrins their name and no surprise, vine growing skills. Despite owning 11.5 million vines, it's fascinating to imagine that each wine produced is from a single vineyard from a particular area. I can't justify an individual owning that much land during communism. The captivating single vineyard of this wine, Cemovsko Polje, is located southeast of Podgorica, the capital between two rivers.
It's not quite clear who the founding fathers were, but my estimation is they are about a group of angry farm owners, fed up with a dictatorship. I envision a coalition of Montenegrins in one of many nights saturated in Brandy, ultimately forming their cooperative state. These farmers were able to grow anything on the fertile soils but saw an opportunity to capitalize on making alcohol with the surplus AND vinify complex wines. This was a time when the global markets were emerging in their modern wine industries, and Montenegrins wanted to cash in on the fun. After the fall of Russian communism against the Come-Con countries, they were able to focus less on quantity and more on quality. In a nutshell, you now know who is Plantaze; appropriately translated as plantations owned by cooperatives. I chuckle at the thought,  like our movie, Plantaze formed the Winner's Circle with their Thoroughbred VRANAZ (Hi-Hat).
PLANTAZE VRANAC PRO CORDE 2015
You can't get any deeper than what the profile of this wine delivers on every level in this side of Europe. The climate, the soils, and the native grapes work in a harmonious orgy. There is a definite distinction that something different is going on in this part of the world. Whenever anyone has vineyards growing on hillsides as steep as these, you know you're drinking something special.
On appearance, you notice immediately the rich opaque color with miles of tears on the nose, the bouquet jumps from the glass and envelopes the scenes. Black ripe wild berries Dusted with wet earth, sour black cherries, cracked coffee beans and exotic spices, cardamom, turmeric, clove, fresh mint, and tobacco leaf.
On the palate, it's dry, medium acid, full-body, medium+ ripe tannin, high alcohol, the pronounced intensity with a sweet grain texture. Black dominates with blackberries, blueberries dusted with cocoa, black ripe plum, seed tobacco, cedar box, lifted with exotic spices and fresh herbs long mineral finish.
This is an outstanding wine. It's heavily concentrated with both aromas and flavors. From the front to the back of the palate layers of flavors unfold, alcohol, acid are well-integrated as well as Oak influence. I suspect Hungarian used oak. It has enough phenolics and tannins to age for another decade. There are characteristics showing it's trying to develop.
I want to challenge anyone to begin moving away from the Western part of the familiar planet and begin venturing  East. There are compelling native grapes from countries that are excited to bewitch your palate to heights unknown. 
Needless to say, Hi-Hat won the Triple Crown through the efforts of the owner and his friends the Marx Brothers who had the last laugh!
A testamental quote to a prime region Montenegro,  from the last 2nd Century AD  great Roman emperor:
"A WINE FROM THE AREA OF LAKE SKADAR VALLEY PREVENTS AGING, PROLONGS LIFE, AND HEALS WOUNDS OF BODY AND HEART".…...MARCUS AURELIUS……
Ciao! Hope you enjoyed my review please comment below Love your feedback.
Thank you and remember Taste Small Live Big!
Follow me on Instagram @epicurean.angel