SANTA CRUZ: THE BOHEMIAN RHAPSODY OF THE HOLY CROSS GETAWAY
This small coastal city with a mild climate and scenic beauty in Santa Cruz County is at the north end of Monterey Bay in California, about forty miles south of San Jose and 75 miles south of San Francisco. It is best known as a countercultural hub, with a bohemian feel and youthful vibe, fun weekend tourist attractions. Here we'll give some of the highlights of the city, but Santa Cruz produces some of the best if not the best small production, premium wines in California! The relaxed beach lifestyle is supplemented by some high tech industry and vibrant university culture, The University of California Santa Cruz, but this truly a wine lover's paradise.
SKYLINE BOULEVARD
REDWOODS, SNAKE TURNS FORGOTTEN HIGHWAY

Source: California State Route 35
The route off California State 35, is an attraction in of itself, as you weave in and out of two counties. Because of its high elevation and location, it is one of the few places in the southern portion of the San Francisco Peninsula from which San Francisco Bay and the Pacific Ocean are visible at the same time!. It also provides scenic views of the Silicon Valley metropolitan area.
The city Of Santa Cruz was established in 1769 by Spanish explorer Don Gaspar de Portola. No doubt, a lot has changed in 250 years making Santa Cruz a premier destination for anyone beloved of wine and food.
The beaches of Santa Cruz are considered some of the most pristine areas of natural beauty in the Western Hemisphere and we were immediately greeted by it driving in through the Skyline Boulevard. A variety of conditions prevail, depending on the beach, as some are more suited for swimming, while others are a surfers' paradise, and well, some are for those who are not shy in their "birthday suit'. The beautiful beaches and the year-round summer-like climate play a central role in the local culture. Most visitors leave Santa Cruz amazed by the city's beauty and ambiance.
LIGHTHOUSE FIELD
Santa Cruz County claims they are the "Capital of Surf City USA"… but Huntington Beach, Ca locals would quickly ridicule that claim. I have no sides to judge that fact, as I would rather be a spectator with a glass of wine. Therefore you can watch world-class surfing from the iconic Lighthouse field. Or if you are into history, the visit the Surfing Museum.
However, when I arrive in town with my Babito and want to get my surf mojo…I head straight to…..

DREAM INN, SANTA CRUZ
This is the only beachfront resort, offering ocean dining with panoramic views of the famous Cowell beach. Built-in 1965, Surfboards are to line the wall beyond the check-in to pay homage to the surf company founded by Jack O'Neill, whose brand was established on the same spot as the Dream Inn. That builds on a 2014 makeover creating the Jack O'Neill Restaurant & Lounge, full of surf memorabilia, next to the Aquarius restaurant.
Source: Dream Inn, Santa Cruz
After you're relaxed, refresh and rejuvenate from crafted cocktails beer or wine, Just a few minutes drive away is the…
SANTA CRUZ BEACH BOARDWALK
Source: Flickr
Situated on Cowell Beach it is California Central Coast's "Coney Island. It offers rides, food and Neptune Kingdom Nautical themed entertainment center. Within it, you can enjoy miniature golf, a pool, air hockey, ping pong, food, and thank goodness alcohol, if you need to take the edge off while running after the little darlings.
But our main objective was to leave the coast and drive into the heart of the wine country, which is located in the captivating Santa Cruz Mountains. We used the Skyline Boulevard and highly recommend this route at least once, as there are many other magical hidden routes to get to your destination.
As a tip, there are no commercial wineries in Santa Cruz and most sell straight to the consumer at their doorstep. So buy a cooler and load up, because you won't be finding any of these at your local retailer. Therefore, when in Rome you might as well start off with one of the oldest operating in the county.
HALLCREST VINEYARDS
Since 1947 there's been wine produced on this property and their tagline…"ORGANIC WINE WORKS". In 1987, John Schumacher and his family bought the Hallcrest site, which had been operating as Felton Empire Winery since Chaffee Hall's death. John and his family restored the original Hallcrest name and label. They pursue Chaffee Hall's original crusade to make uncompromised quality wines from the Santa Cruz Mountains. Hallcrest is family owned and operated by the Schumacher's. Here you get the kitchen sink, many varietals, and styles, as well as s several flavors of on-premise brew hard ciders.
379 Felton Empire Rd, Felton, CA 95018
(831) 335-4441
Thank goodness for a little wine relaxation, for the next stop and many more are the tight turns you won't get away from. Tucked away and thru an "estate" gate,( I say that modestly because these wineries are just rustic homes tucked in the woods with lots of property) is…
BEAUREGARD VINEYARDS TASTING ROOM AND WINERY
In 1945, retired Sheriff Deputy Amos Beauregard bought 157 acres which included 13 acres of Cabernet Sauvignon, Chardonnay, Zinfandel, and an old grape known as Charbono from Quistorf who originally planted the vineyard circa 1880. Amos farmed the land at the newly named Beauregard Ranch until his final days. Amos' son Emmit (Bud) Beauregard, founder of Shopper's Corner Grocery Store in Santa Cruz, farmed the family land for a lifetime while running Shopper's. Bud's son Jim Beauregard took to farming at a very young age with his grandfather Amos. In 1982 Jim worked rigorously to establish the Ben Lomond Mountain AVA, a distinctively different terroir than the rest of the Santa Cruz Mountains. Over the years, Jim has planted hundreds of acres of vines throughout the Santa Cruz Mountains and still maintains his 68 acres of Pinot Noir, Chardonnay, Zinfandel and Cabernet Sauvignon.
Jim's son Ryan Beauregard is the current winemaker for Beauregard Vineyards and created his first vintage in 2000. His wife Rachel works in the business and they live with their two young daughters on site. Beauregard wines are plush and display generous fruit, minerality acid, and a gentle backbone finish. Do place it on your list of stops, to experience a historic tasting room in the coastal redwoods of Bonny Doon. stay awhile and take in the charming picnic area, a creekside patio, and scenic tasting room.
Tasting Room & Winery
10 Pine Flat Road
Santa Cruz, CA 95060
(831) 425-7777
tastingroom@beauregardvineyards.com
My Babito and I hungry and in need of a break chose a magnificent restaurant in Downtown Santa Cruz that will fulfill any personal desire…
OSWALD RESTAURANT
Source: Randie Silverstein
Since 1995 Hipsters, surfers, professors and over-30s flock to Oswald Restaurant "happening place" in Downtown Santa Cruz, where service delivers superlative, ingredient-driven, creative comfort New American entrees, in a modern setting. You get the best of both worlds, fine dining with fixed priced menus or casual, as it is voted "BEST BURGER IN SANTA CRUZ", in addition to a full bar.. check out popular bartender, Ben Caruso handcrafted cocktails.
We spared no enjoyment by chef Martin Oswald who once again executes exquisite plates.
MUSHROOM SOUP WITH CREME FRAICHE AND GREEN ONION
SAUTEED LOCAL GREENS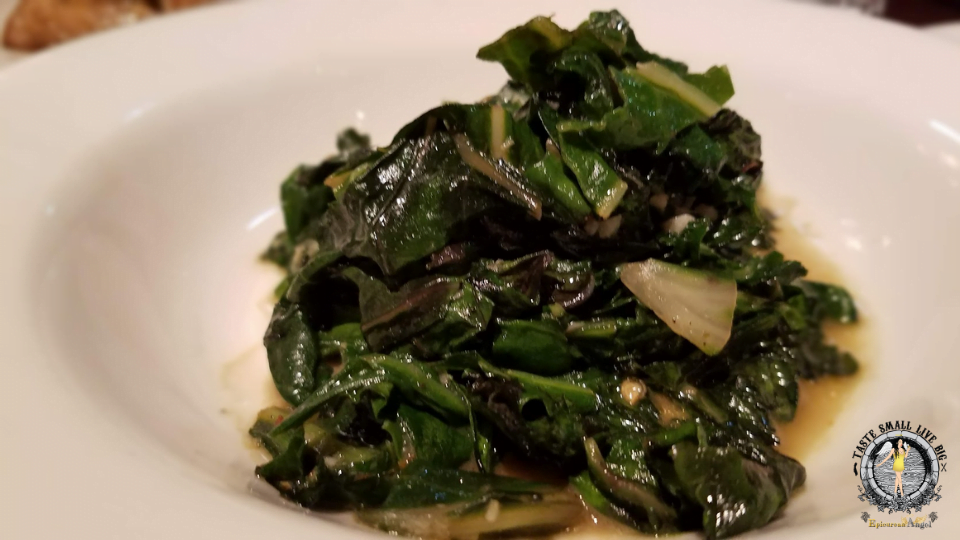 HOUSE-MADE PARPPERDELLE WITH BOLOGNESE AND GRANA PADANO
ROASTED SKIRT STEAK WITH NOPALES, BLUE POLENTA AND CHIMICHURRI BUTTER
PAN ROASTED LOCAL HALIBUT WITH BACON TOMATO AND STEWED GREEN BEANS CHERMOULA
The next stop for The esteemed Chef Martin Oswald is Snowmass, Base Village in Aspen, on a unique dining concept… stay tuned!
121 Soquel Ave, Santa Cruz, CA 95060
(831) 423-7427
It's check-in time, and there is one place in town that will delight and capture home away from home…..
RIO VISTA SUITES
I know what all you bambinos are thinking…PSYCHO….However, you will be well impressed with what you are about to encounter. Built-in 1890, this adult-only "hotel" consisting of 12 quaintly appointed suites is as Victorian as it gets.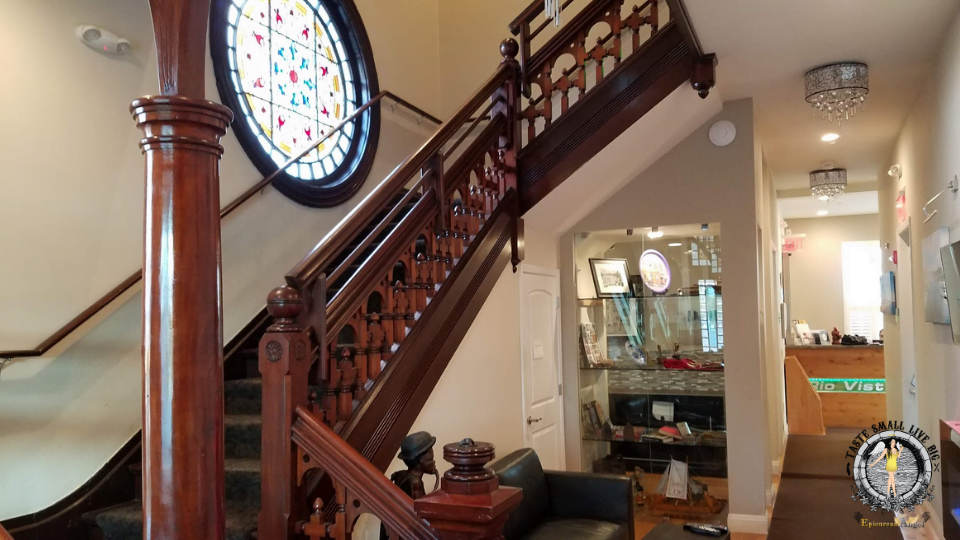 Hopefully, you are intimate with anyone you are rooming with as the shower, toilet (with a door), and lavatory, is in front of the bed. However, they do have an electric fireplace if you wish to get cozier.
My Babito, by the way, is responsible for all the chosen accommodations on our travels and this is very much a find. It offers city and ocean-view suites, across from the San Lorenzo Riverwalk, 5 minutes from the nearest beach, and 4 miles from the Mystery Spot attraction (more to come on that).
Please be sure to give a big" Hello" to the Hotel manager/ receptionist extraordinaire… Lakhani, who along with her husband, manages this fantastical property.
Rio Vista Inn & Suites
611 Third Street
Santa Cruz, California 95060 USA
Tel: (831) 621-2929
Reservations: (831) 621-2929
Fax: (831) 426-7574
Property Email: riovistasuites@gmail.com
Every area of the world has some form of intrigue that's unexplainable, Machu Picchu, Stonehenge ect., humbly Santa Cruz has its own, and somehow gets the feeling Santa Cruzns are obsessed with Obscura…..
THE MYSTERY SPOT
The Mystery Spot tourist attraction near Santa Cruz, California, opened in 1939 by George Prather. Visitors experience demonstrations that appear to defy gravity, on the short but steep uphill walk and inside a wooden building on the site.
Source: Mystery Spot
Or in a rush to get to the next wine destination, as I was… check out a drive-by attraction…
COURT OF MYSTERIES
A strange house built ONLY at night, with rumored mystic inspiration. … Built by Kenneth Kitchen in 1946, who also went by Claire, Clarke, and Clarence, the abandoned "Yogi Temple" house at 519 Fair Ave is known by all in the area as the "Court of Mysteries." This official Historic Landmark is now in restoration by a local Santa Cruz couple.
Know Before You Go
This is a "drive-by" type of visit. There is no public access to the property but plenty of street parking if you want to stand on the sidewalk to view it. If you go by during the day, you may be able to speak with the caretaker, who lives on the premises.
At this point, I'm in the mood for bubbles, and for any of you share a fascination with sparkling wine as I do, Equinox Wine is the place for me. Locals refer to the location as the thriving West Side community of Santa Cruz, 10 minutes from Santa Cruz Beach Boardwalk. The equinox tasting room is within an unofficial "Funk Zone" called Swift Street Courtyard. It acts as a relaxing hipster spot for locals and visitors alike. There's a central courtyard to leisure your time with West End Tap & Kitchen and Santa Cruz Mountain Brewery.
EQUINOX WINE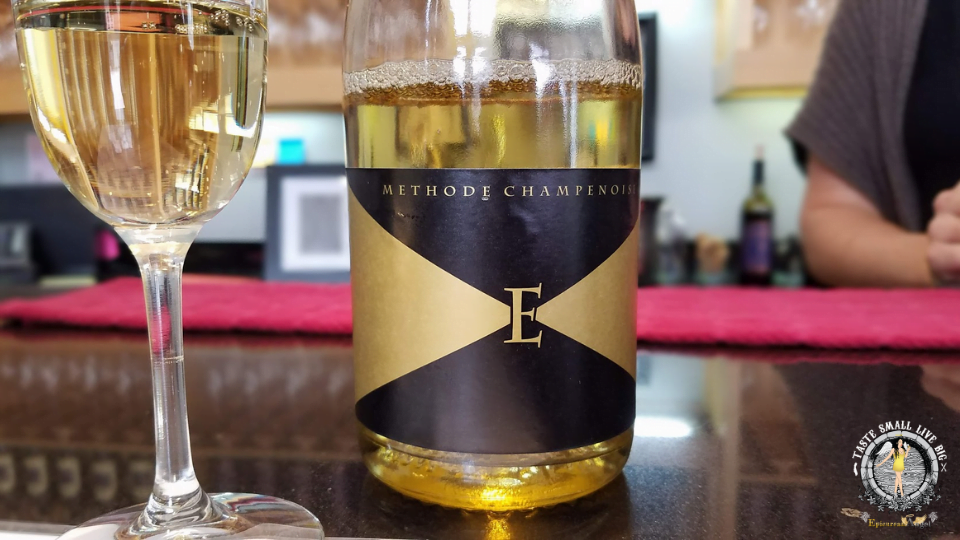 Harmony Wine Co. opened for business on April Fool's Day 1987. In 1989, Equinox sparkling wine was born with their first harvest made at friends Pam & Steve Storrs Winery in Santa Cruz only to lose half to the violent jolts of the Loma Prieta Earthquake. In 2006 Barry and Jennifer Jackson opened their own on-site Santa Cruz facility to expand their own wine production with hands-on services to consult for and assist other wineries who wanted to produce sparkling wines under their own label.
Equinox Wine focus on sparkling wine production is evident in the glass. The wines display delicate orchard and sunkissed citrus fruit, toasted brioche, lively acid, and aggressive mousse.
Tasting Room
334 Ingalls Street, Unit C
Santa Cruz, CA 95060
(831) 471-8608
equinoxwine@gmail.com
Dinner at Soif Wine Bar & Merchant Cafe

If there's one place I'm going to fulfill my gastronomic palate for dinner, I have one word……SOIF ( For your info… pronounced SWa'f, I stood corrected too, it's French for "thirst")… Santa Cruz is not a late nite town despite the college students…note 8:30 reservation would be pushing it. I Can't gush enough about savoring Chef Tom Mcnary's stupendous cuisine.
WATCH OUR VIDEO WITH CHEF TOM MCNARY
Santa Cruz is a feast for the senses, mystical, modern and stopover for oenophiles and foodies alike. It is very hard to leave. However, the next morning get a bit more breathe from this enchanted county, rejuvenate. This multi-use trail provides a connection between Henry Cowell Redwoods State Park, Pogonip, and UC Santa Cruz campus lands. Bicycles and horses are prohibited on all other trails in Pogonip. Pogonip has several walk-in entrances. TIP: There is no on-site parking.
All you golfers are not forgotten, book around at …..
Pasatiempo Golf Club
Source: Pasatiempo Golf Club
Pasatiempo Golf Club is an 18-hole golf club on the West Coast of the United States,.located in Pasatiempo, Santa Cruz County, California. Designed by the famous English architect Alister MacKenzie, the course is famed for its breathtaking scenery and rich golf history.
There's no shortage of your vacation to this fascinating region. My Babito and I hope you will make this an ongoing rendezvous.
So head back on Skyline Boulevard, and let it take your breath away one more time. There is much more options to taste to keep you coming back…If not for the simple reason, you won't find your options duplicated ANYWHERE!
Ciao! Hope you enjoyed the article of Unique things to do in Santa Cruz California
Please comment below Love your feedback. Thank you and remember Taste Small Live Big!
Follow me on Instagram @epicurean.angel