Like an Oreo Cookie… It's The Cream In The Middle
From Los Angeles in route to central coast lies an unexplored city, a disregard to just a quick stop for fuel or drive-thru to curb road trip hunger. However, if one would drive in a little deeper, you witness a destination town meriting a makeshift trip. Ventura is comfortably compact, accessible without any pretense. The city is beachside enveloped, an affable pedestrian historic downtown, complete with artisan restaurants, locally-owned specialty shops, and the piece of resistance, an Urban Wine Trail! It may not be what you expect to be vineyards or the sloppy mess of the Santa Barbara Urban Wine Trail (although I have soft spot for Silver Wines… Benjamin's Sangiovese is phenomenal) Most of the wineries are modest and limited, plan accordingly as the majority are only open for tastings on weekends or by appointment.
HERZOG
Part of the journey is discoveries, so be indulgent for a source of unique finds. For example, it is home to one of the largest kosher wineries, Herzog.
It sports a full restaurant, gift shop, along with a narrow selection of cigars, and one may order food from the restaurant and enjoy it at the bar while tasting their wines. All grapes are sourced from Northern and Central California for simple, fruit-forward uncomplicated wines.
3201 Camino Del Sol, Oxnard, CA 93030
Phone: (805) 983-1560 | Fax: (805) 983-1775
LABYRINTH
If the palate is craving to start at the top of the wine chain experience, enshrouded in the historic downtown is Labyrinth.
Labyrinth was founded by New Zealand Native Ariki (Rick) Hill in 2000 and co-owned by husband and wife Eddie and Stephanie Schwartz, who was convinced of Rick's prowess for winemaking. Although he produces Chardonnay, Viognier, and Cabernet Sauvignon with stature, It's the Pinot Noir wines that solicits the attention alone. They are filled with a potent and provocative bouquet of aromas, copious amounts of taste, and lengthy finish. Wines are little or unfiltered at all mainly sourced from single vineyards of Paso Robles, Ca wine region from specific clones to suit the different soils and microclimates. He has a second label, Haka, in homage to the emotional New Zealand native Maori dance. Tasting room manager Gregory Leon was expertly spirited, generously hospitable, and highly insightful.
TASTING ROOM: 607 E. Main St., Suite D, Ventura, CA 93001
WINERY: 2310 Westgate Road #7, Santa Maria, CA 93455
Email: Info@LabyrinthWine.com
Tel/Fax: (805) 585-2238
INN ON THE BEACH
It would be senseless to encounter this town and not stay at one of the many lovely boutique hotels or inns scattered along the coast with sweeping views at fair prices such as Inn on the Beach.
Though the inside of the hotel could use some renovating, with its Victorian-style decor, every room faces the ocean with fireplace, a private balcony and with what is the decisive selling point, it's endless dramatic views.
The bottom floors are beach assessable, but it's the top-level that captures the beauty and hypnotic sound of the waves. The staff is accommodating, free parking, Wifi, and continental breakfast, in addition, they offer a 3 bedroom/2 bath fully equipped modern beach house for rent.
Inn on the Beach 
1175 S. Seaward Ave Ventura, CA 93001
(805) 652-2000
PARADISE PANTRY
Ventura residents and businesses are unassuming, but should not be confused with proudly representing their luxurious bounty of resources. One place that fiercely personifies this is the Paradise Pantry.
For over a decade owners Chef Kelly Briglio and wine curator Tina Thayer operate this restaurant, cheese, wine shop and petite upscale market in a rustic ambiance. Seasonal organic dishes made exclusively sourced from local fisherman, farmers, ranchers, beekeepers, cheesemongers, and winemakers!
One will not be disappointed to come in anytime to eat as everything on the menu is delectable, but, it would be scandalous to not indulge in Kel's "Killer" Mac. The creations constantly change, but at first bite, you'll need a moment. Another essential is their scrumptious grilled sandwiches, simple but packing a mouthful of flavors.
222 East Main St. Ventura, CA 93001
(805) 641-9440
VENTIKI TIKI LOUNGE & LANAI
In search of novel, playful, discreet and a strong drink? Founded in 2013, VenTiki is true to a neighborhood institution, festooned with Island authenticity from the restaurant/bar, patio with firepit and gift shop.
Don't mistake it to be kitschy, this place takes its offerings serious, from the classic Polynesian inspired menu (and sushi), prepared in their "Punk Rock Kitchen" as they like to call it, the Kalua Pork and Seared Diver Scallops are cardinal. Intoxicating traditional cocktails and signature modern drinks with gut are crafted by a sociable edgy looking staff with aloha wear.
It's best to finish your night here, for one it's open late, but after having a VenTiki Mai Tai, as anyone who knows this place will attest, will have you stumbling back to your beachfront hideaway.
Take Uber/Lyft.. they abound plenty.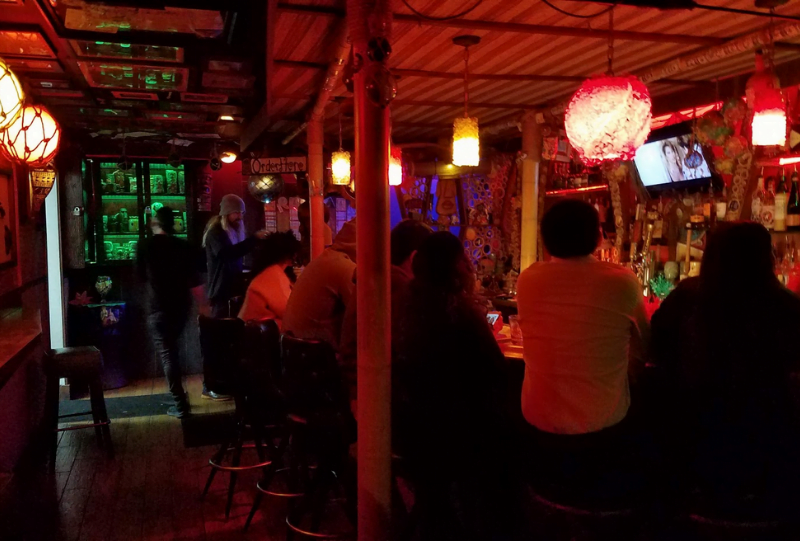 VenTiki Lounge & Lanai
701 E Main St. Downtown Ventura, CA 93001
805-667-8887
Ventura full of energy year-round with events like THE WINE FOOD AND BREW FESTIVAL, SURF AND SUDS BEER FEST, summer SEASIDE LIVE MUSIC, COUNTY FAIR, PIRATE DAYS, and it's just the shortlist. Checkout Ventura Harbor Village events page. This a remarkable borough ready to receive, share it's diverse beauty and history without an inflated personality.
Ciao! Hope you enjoyed Where to Stay, Eat and Drink Wine in Ventura
Please comment below Love your feedback. Thank you and remember Taste Small Live Big!
Follow me on Instagram @epicurean.angel