CAMBRIA: NOTHING WELSH ABOUT THIS TOWN.
Cambria is a seaside village in San Luis Obispo County, California, United States midway between San Francisco and Los Angeles along California State Route 1. The name Cambria is Latin for Wales. It was simply chosen in 1869 by a prospector, who felt it reminded him of Cambria County, Pennsylvania. 
Previously, it was called Slabtown. Once a mining town which was the source for building materials of nearby Hearst Castle, during the Great Depression. The town of Cambria is snuggled amidst Monterey pines in one of only three such native forests, that gives the area it's distinct character.
Take in breathtaking views with a stroll or a hike along the Pacific Ocean with its bluffs, rocky shoreline, and beaches. One of the most notable beaches along the Pacific Ocean is Moonstone Beach. Moonstone Beach is so-called for its shiny gemstones that glitter in the sun in all colors which can be found on the beach…
Wander historic East Village, there are no chain stores in Cambria, so shopping downtown will assure you'll find one-of-a-kind, hand-crafted gifts, and antiques. Indulge in many dining choices. Soak in some suds at 927 microbreweries, brewing craft beers since 2012. In addition, Cambria flourishes with premium boutique wine tasting rooms.
Babito and I wanted to absorb the true aura of Cambria when we arrived, and the spot to unwind and have lunch is
MOONSTONE BEACH BAR & GRILL
It's a relaxed spot with ocean views and outdoor patio, serving generous portions of seafood, steak, and pasta. Be sure to order the bloody mary. It's a tasty meal served in a glass.
When I travel, I like to get an idea of what the essence of the local culture of my destination is. This is usually done with a quick visit to their market. There is a general store at the end of town, but its main market is the Cookie Crock Market. Be aware, as with any remote tourist-driven town, the price of gas and food is expensive.
For more unique items, the ideal spot is A Matter Of Taste. It offers a wonderful selection of culinary tools, gourmet food, and local specialties. Fermentations offers a variety of items from local wines to gourmet food and gift baskets. There's a wide selection of great food, wine, and entertaining products. They also offer wine and food tastings at the store, so you can taste before you buy!
My wine sonar is beckoning and with a variety to choose from, there are three. I highly recommend Moonstone Cellars, Black Hand Cellars, and my favorite, Cutruzzola.
MOONSTONE CELLARS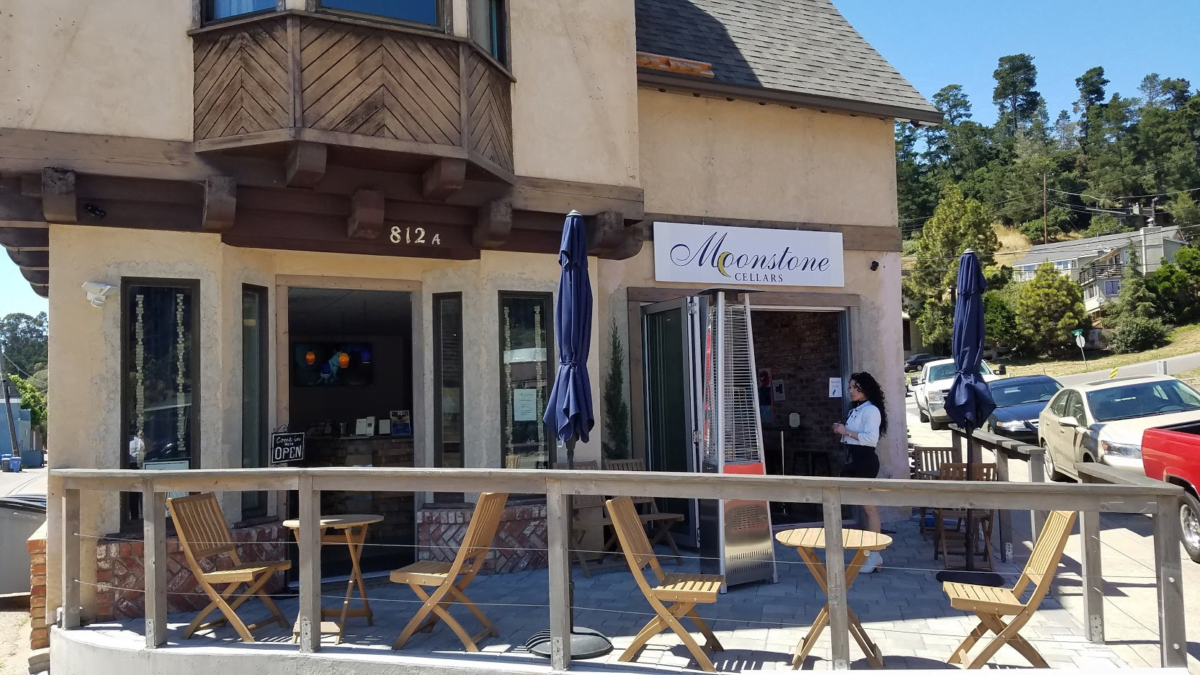 This tasting room is uncommon for several reasons. Just off of Main St. in the historic West Village is its new location. Conceived in a basement overlooking Moonstone Beach, Todd Clift and his dad, Muril, began making wine in 1998. Todd creates his wines made from Central Coast grapes.  Choose a luminous style Grenache to a structured Zinfandel and Cabernet Sauvignon, a plum citrus Sauvignon Blanc to a dry spicy Gewurztraminer with attractive prices to match.
 Join them for Open Mic Nite, stand up comedy or for Moonstone Memoirs and true stories told without notes in front of a live audience. For a special treat with advanced reservations, book a stay at The Chateau above Moonstone Cellars. From the image, the chateau is located just above the tasting room with a minimum of reservation for two nights.
Image Source: Moonstone cellars
812 Cornwall Street
Cambria, CA, 93428
(805) 927-9466
BLACK HAND CELLARS
The Black Hand Cellars Tasting Room offers outstanding Rhone and Bordeaux blends and stories that go with the "speakeasy" theme of the room. Black Hand Cellars is managed by a couple (Tom and Terry Bannish) who have created a small family boutique winery. The grapes are estate grown on the westside of Paso Robles, at their Tori Ranch Vineyard. The name celebrates how Tom's great grandfather made exceptional wine. The Black Hand Mafia found affection for his wine and sought him out for it. Savor a flight of Tom Bannish's hard ciders.
766 Main Street, St.
Cambria, California
(805) 927-9463
CUTRUZZOLA VINEYARDS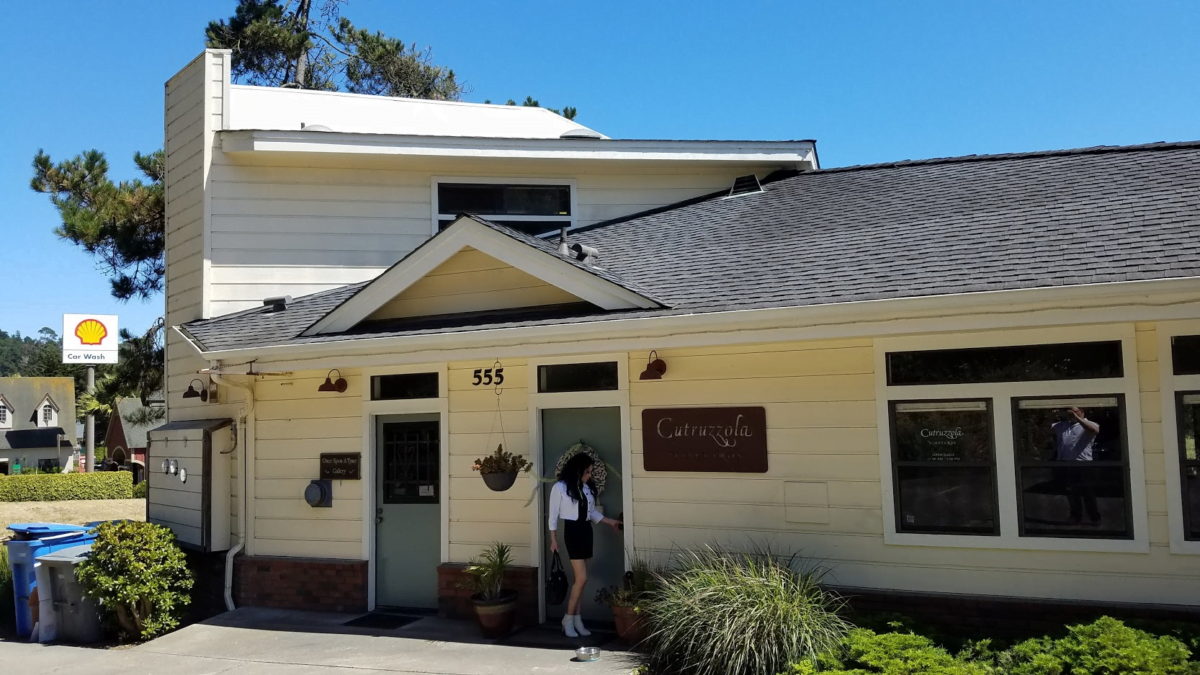 Cutruzzola is an appraised winery producing Riesling and Pinot Noir from their estate vineyard located just outside of Cambria. It is located only a few miles from the water's edge, and just over the coastal mountains from the Westside Paso Robles wine region. In 2001, Francis Cutruzzola and Lisa Miller planted their Riven Rock Vineyard in a dramatic canyon behind Cambria, less than 7 miles from the Pacific Ocean. They've since relied on experienced regional vintners such as Stephen Dooley and Aaron Jackson to produce extraordinary wines with longevity and elegance. Riesling isn't common grape winemakers like to work within Central Coast. However, any skepticism would be banished once you taste theirs. It maintains energetic acid and bounteous fruit and exuberant finish. Their Pinot Noirs are truly provocative. Don't pass up their hard ciders!
555 Main St.
Cambria, CA 93428
(805) 927-2670
When it's time to get settled, and refresh for the evening. It would be criminal to not book any one of the oceanfront front properties located on the long stretched street of Moonstone Beach Drive. It all depends on availability with the seasons as one would not be surprised they quickly get fully booked any time of the year. The other factor is value, as there are super luxury to low budget properties. We chose a middle of the tier…
CAPTAIN'S COVE COUNTRY INN
This is a gem. Its two miles from the center of town. If you prefer not to peel yourself away from the waves, there are several restaurants with bars on the same street. The room is rustic with a cottage feel and whimsical. It's not fancy, but clean and comfortable. 
The owner is very friendly and hospitable. Our room welcomed us with homemade muffins and fruit. We booked the bottom room with unobstructed views and our own patio. Babito and I captivated the entire scenery with a bottle of bubbles and cigars on the patio, and let time float into the sea.
6454 Moonstone Beach Dr, Cambria, CA 93428
(805) 927-8581          
Babito and I do not drink and drive and ride services are crickets in this area, so we opted to have drinks and dinner at the ….
SEA CHEST RESTAURANT AND OYSTER BAR
This place is very popular, so be prepared for a LONG wait as they don't take reservations. The best way to get the full experience is to poney up to the bar and order up some fresh oysters and drinks. The lounge is kitschy, modest in size with a nautical theme and filled with games to pass the time. It's worth the wait for an ocean view table but not worth the wait for the food.
Although they have been operating for over 30 years, perhaps the popularity has made the quality spotty. Still, the food is solid and offers all the seafood classic dishes one would expect. Don't be shy to ask for forgotten items or send a plate back. After all, you are the customer and it's your pleasure.
Image Source: Sea Chest Restaurant and Oyster Bar
6216 Moonstone Beach Dr
Cambria, CA 93428
(805) 927-4514
If you were to go into town, I recommend three superior dining options. Madeline's Restaurant & Wine Tasting Shop located in the historic West Village is comparably revered by locals and tourists. It's cozy and polished, homemade French/American cuisine as well as an abundance of international flavors made from farmers market-fresh ingredients. Purchase a bottle for dinner in their wine shop and pay no corkage fee.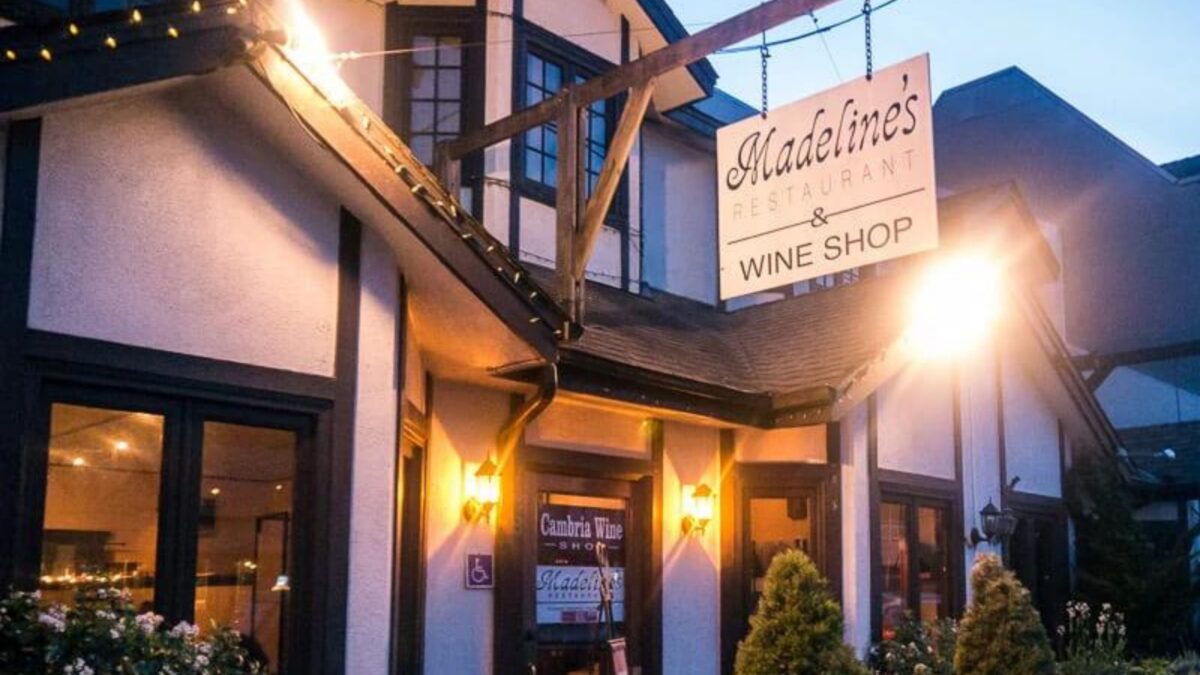 The second recommendation is The Sow's Ear. Serving Contemporary Californian cuisine and curated wine list served in a tiny, old cottage with fireplace. The service, ambiance, price, location, and sumptuous food sums it up. Dress code is enforced, but they had me at Lobster Corn Dogs.
However, I'd put all my chips in ROBIN'S. Robin Covey and Shanny Covey first began serving wholesome fare in the back room of a small health food store in Cambria. The acclaim of their dishes allowed them to soon bolster and open Robin's, which was then located on Bridge Street. Five years after opening, Robin & Shanny relocated the restaurant to a restored historic adobe house on Burton Drive. The menu features handcrafted comfort cuisine with an embellishment of international flavors made from farmers' market-fresh ingredients.
Source: Robins Restaurant
4095 Burton Drive
Cambria, CA 93428
805.927.5007
Cambria captures the spirit of soul embedded with the sea. Cambria is why small towns like these are resurrected for its history. They evolve over time for the romance of travel. This is a place where adventure meets relaxation, where fun meets flavor, where the pines meet the sea.
WATCH CAMBRIA: WHERE TO EAT AND DRINK VIDEO
Ciao! Hope you enjoyed the article and video about Where to Eat and Drink Wine in Cambria
Please comment below Love your feedback. Thank you and remember Taste Small Live Big!
Follow me on Instagram @epicurean.angel