THE CENTRAL COAST'S RECREATION
Pismo Beach is a city located in San Luis Obispo County on California's Central Coast. Three hours from Los Angeles or San Francisco, it's an ocean adventure to escape the city or locals from the San Joaquin Valley escaping the heat. The "Five Cities" area is actually only three, Grover Beach, Arroyo Grande, and Oceano Beach. Best known for its 8.5 miles of beaches, and linked trails from city to city, for biking, hiking, and endless water sport activities.
The tide tables are unlike anywhere in California and that makes surfing a serious pastime. In addition, what's not to like about the endless wineries a short drive 15 to 30 minutes away abounding with fresh juice off the vine. Still, what makes it's a long and wide stretch of beach alluring is the fact it's the only beach in California where you pay a small fee to drive your vehicle on its panoramic sands.
Babito and I arrived early afternoon from Orange County with a thirst and hunger to take in the scenery. We drove straight to Marisol at the Cliffs Hotel and Spa.
Drink in the fabulous views, service and a bowl of their famous clam chowder.
Next on the agenda is what should be on anyone's Pismo Beach playlist is our reservation on the sand dunes
WATCH OUR PISMO BEACH VACATION
For a thrilling and daring experience on the sand, head to Oceano Beach, and rent an ATV, UTV, or Dune Buggy from Sunbuggy Fun Rentals. Ride through the sand dunes with the Pacific Ocean as a backdrop. Safe for all ages, as the staff is expertly accommodating, superb customer service and care.
328 Pier Ave
Oceano, CA 93445
(866) 728-4443
Head to Grover Beach if you prefer to savor the views on hoofs. It boasts trails that give you a sense of what Don Gaspar De Portola and parties felt like when they camped there back in the 1800s.
Visit Monarch Butterfly Grove Nature Preserve. A natural reserve where Eucalyptus tree-filled grove with thousands of monarch butterflies in late October through February. Discover Dinosaur Caves Park in Shell Beach for its tidepools and caves. It was once an amusement park. Though nothing is more synonymous with Pismo Beach than the famous Pismo Beach Pier. As with many piers, it was a commercial venture designed in part to save freight fees for South County products. Today, it's one of the longest and widest piers in the world. It serves as the main focal point of the city for leisure strolls to soak in the sunset or sundown. Fun fact, it's the most popular spot to take a selfie under the pier.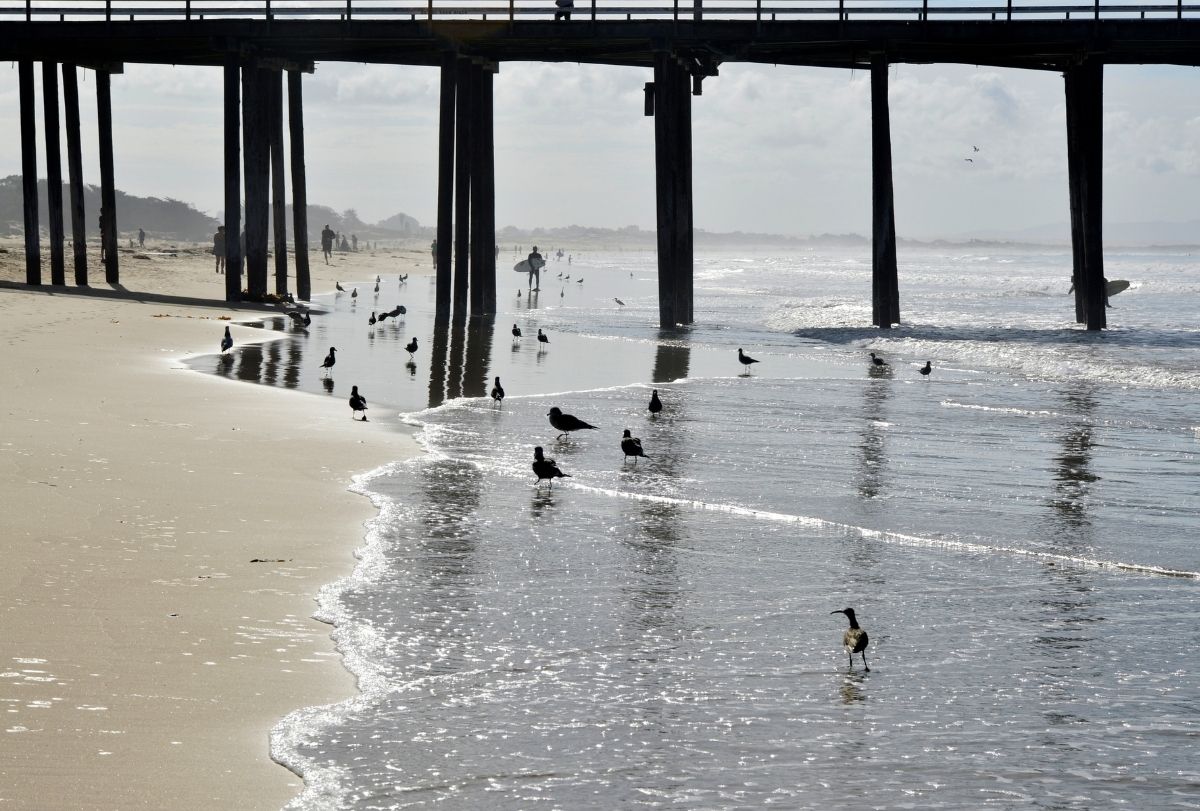 I must admit, we are both one and the same, after a half-hour of sand trailing, we looked at each other with a look of great experience, time to relish the town! Before checking into our digs, we wet our palate with one of the finest, San Liege Wines.
San Liege is the Maverik of wines, producing Rhone Valley-style wines in the heart of Paso Robles. Curt Schalchin, winemaker, a nonconformist, crafts wines that cast spells on the palate with no abandon.
870 Price Street
Pismo Beach, Ca 93449
805-773-2770
It's check-in time and the best deal and soaring views are The Cottage Inn By The Sea. Our room would leave you weeping as you step into welcoming waves. What a beautiful view it is!!!!!
The rooms are spacious, clean and beautified with a cape cod charming decor. I'm a sucker for fireplaces and every room has one. Though it doesn't have a formal dining option on the property, it serves a free "bed and breakfast" style quality in a cozy dining area. Before you embark the next morning, don't leave without making a wish at their enchanting wishing well. You'll be smitten to come back.
2351 Price Street
Pismo Beach Ca, 93449
805-773-4617
It is incredibly tempting to melt into the moment and stay in it all night, but The Taste of the Valley is not to be missed. Here you can purchase a variety of bottles from all around the world with good measure. At once, step into a friends cellar and be embraced as they have a cozy bar with wines by the glass.  You can taste a flight or you can choose a bottle to taste and they recycle it to the flight tasting if you don't want it.
911 Price Street
Pismo Beach, Ca 93449
805-773-8466
As with all Central Coast towns, I call them "Lullaby Towns", because your only option if you wait any later than 9 pm, is a watering hole you will never remember. Therefore, it is clearly a Pismo Beach requisite to dine at Ventana Grill.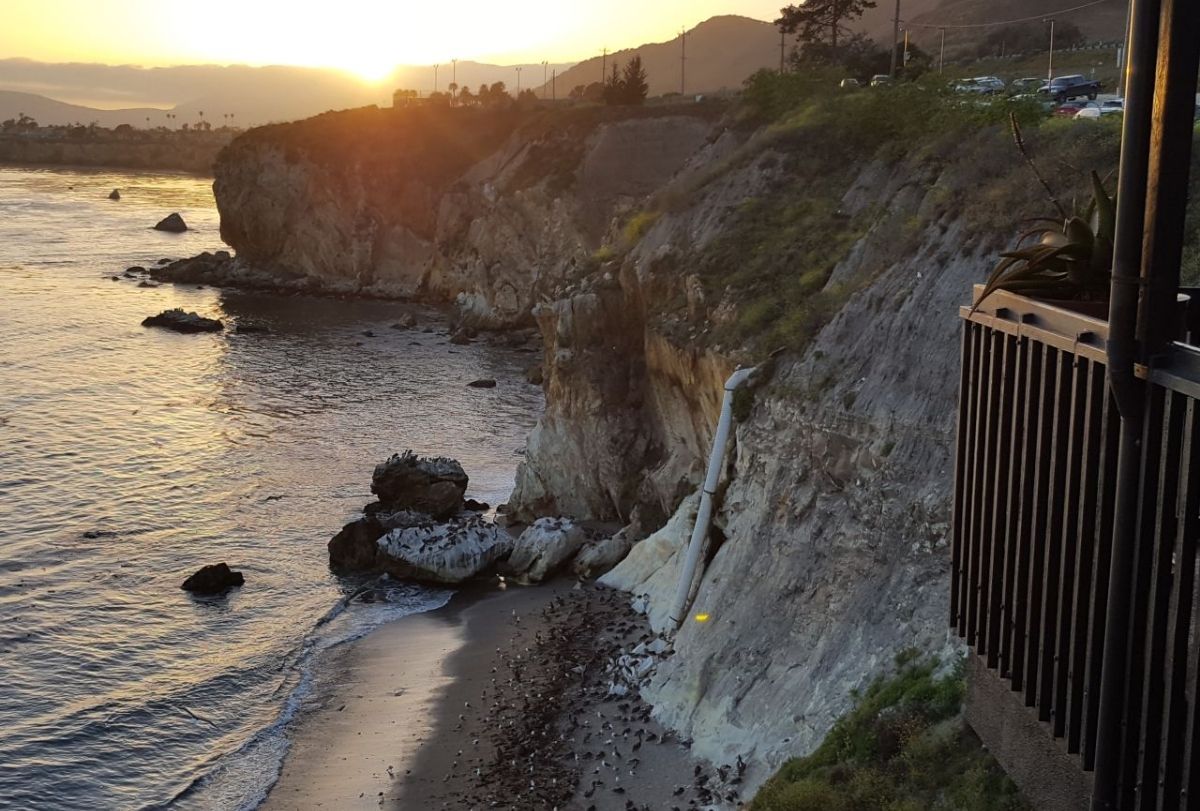 The view from our table is nothing short of this beautiful picture. A wonderful sight words do not seem to vividly explain. Simply put, its nature's work of art. If I must boast, despite conducting our reviews, it was here that my babito asked me to marry him again, as we were also celebrating our 25th wedding anniversary that evening. Naturally, I said " yes" to my best friend, after he surprised me with the ring!
Ventana Grill is perched on a coastal bluff specializing in Latin-inspired dishes & fresh seafood.
Most restaurants with such mesmerizing atmosphere are high priced with low quality.
The service is very attentive, the food is expertly curated with merit, even homemade tortillas, and a tequila list worth multiple flights. There's always a wait for seating, so make yourself comfortable at the open seating bar with 180-degree seacliff views.
There's a generous selection of local wines by the glass, but I repeatedly like to bring my own bottle when dining. Their corkage fee is very reasonable. Our dishes included
POKE NACHOS
GOAT CHEESE WEDGE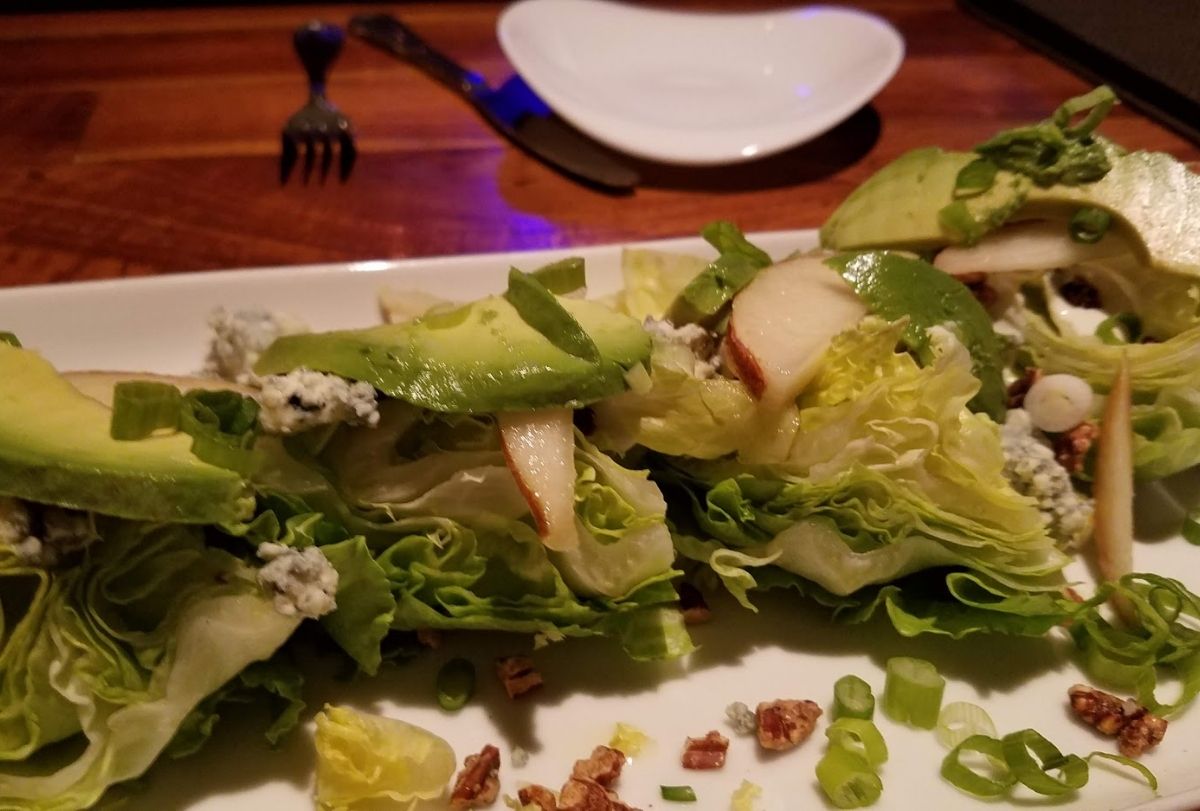 MACADAMIA CRUSTED HALIBUT FILET
MERGUEZ SAUSAGE WITH COLOSSAL CAMARON
My girl C NAGY … The Central Coast Pinot Noir queen
2575 Price St
Pismo Beach, CA 93449
805-773-0000
I have a penchant for cigars and This lounge is a dream…
La Aroma De Havana Cigar Bar & Lounge
Premium selection in their humidor is ADD to me. Purchase or bring your own cigar, order wine or beer at the bar and sit in a Homer Simpson chair…pure heaven with unmatched satisfaction. This a sexy way to end an evening in this funky town. Stop in at their Santa Barbara location, it has 2 spacious smoking rooms, 4 flat TV screens, 30 private lockers and an assortment of non-alcoholic beverages for sale. A domino table, poker table, and chess tables are available for your enjoyment.
600 Dolliver St.
Pismo Beach, CA 93449
(805) 295-6872
I relish coming back to this play yard of fun in the sun for families and adults alike. The Chumash Indians respected its natural resource for tar (PISMU). Although, it is hard to believe it was home to the most saloons in California, notorious brothels, and the finest source for booze during Prohibition. Long gone is the rebellious image it once had. Today, it is a source for amusement, fresh off the vine wine, quality dining and lodging with picturesque views. The possibilities for pleasure seekers are endless.
Ciao! I hope you enjoyed the article about PLAYFUL PISMO: Wining & Dining in Pismo Beach
Please comment below Love your feedback. Thank you and remember Taste Small Live Big!
Follow me on Instagram @epicurean.angel